Village Houses
3 homes for a family of 3 generations, where the interactions between volumes and a main portal frame create deliberate spaces for coming together, while setting aside private areas for each member of the family.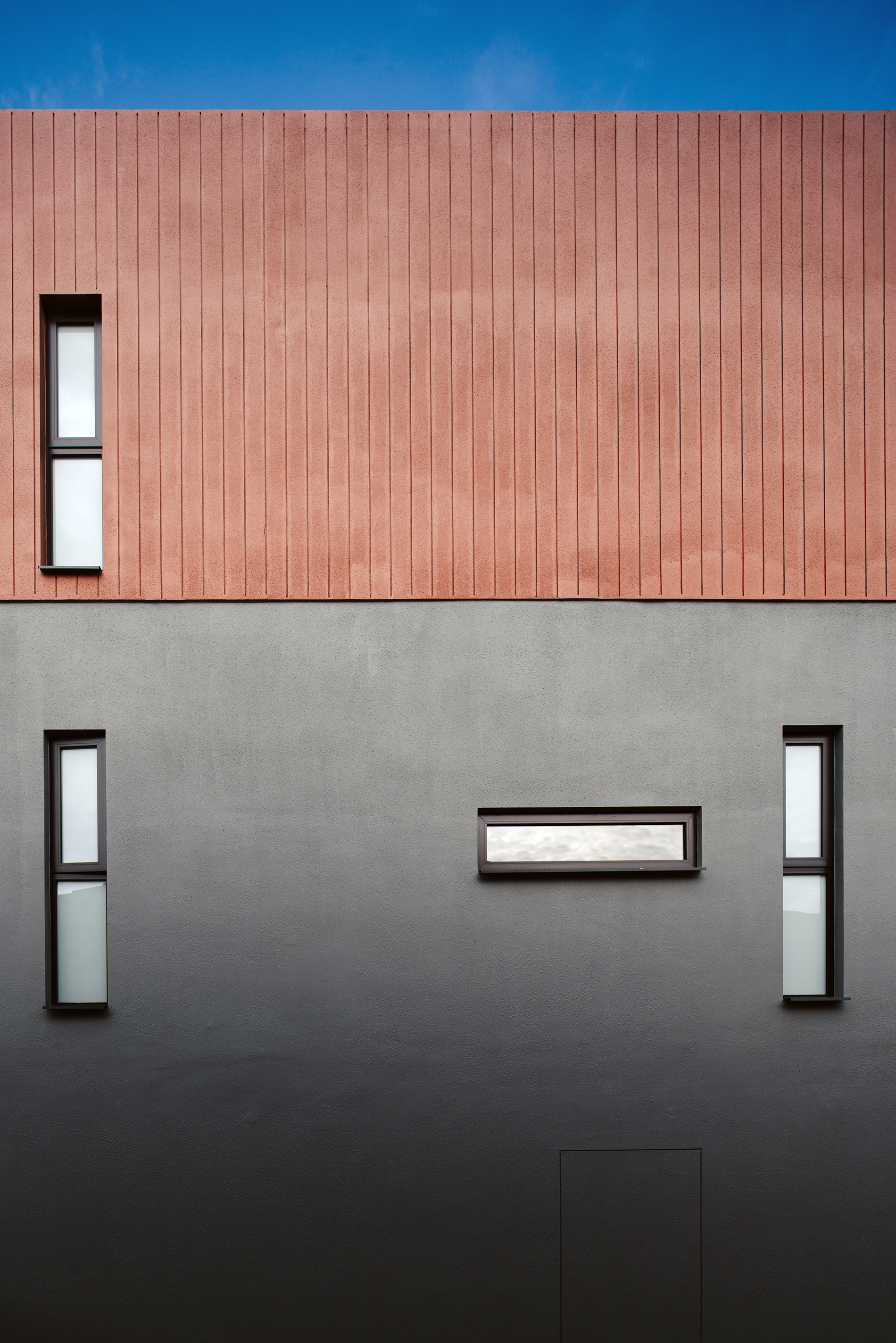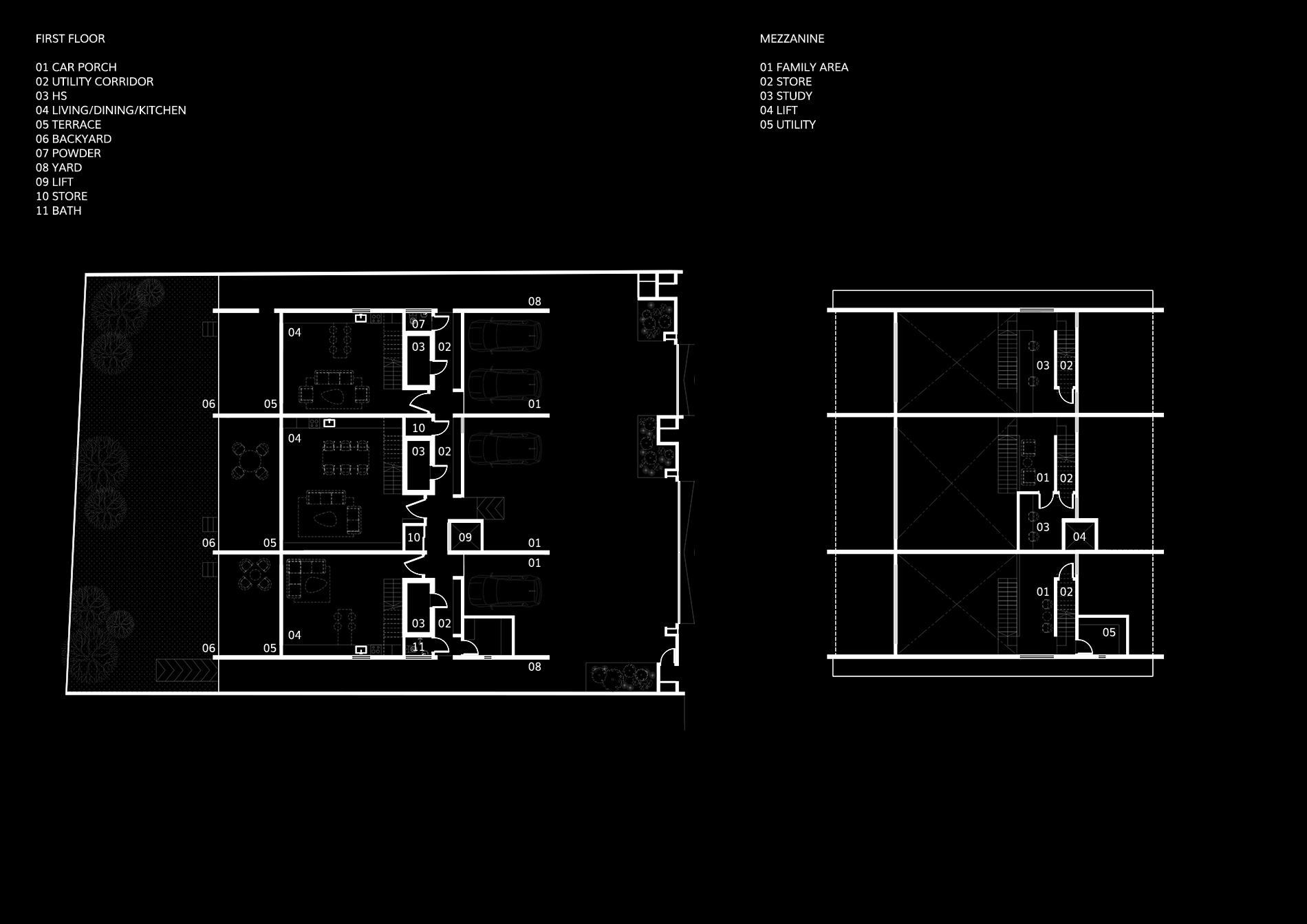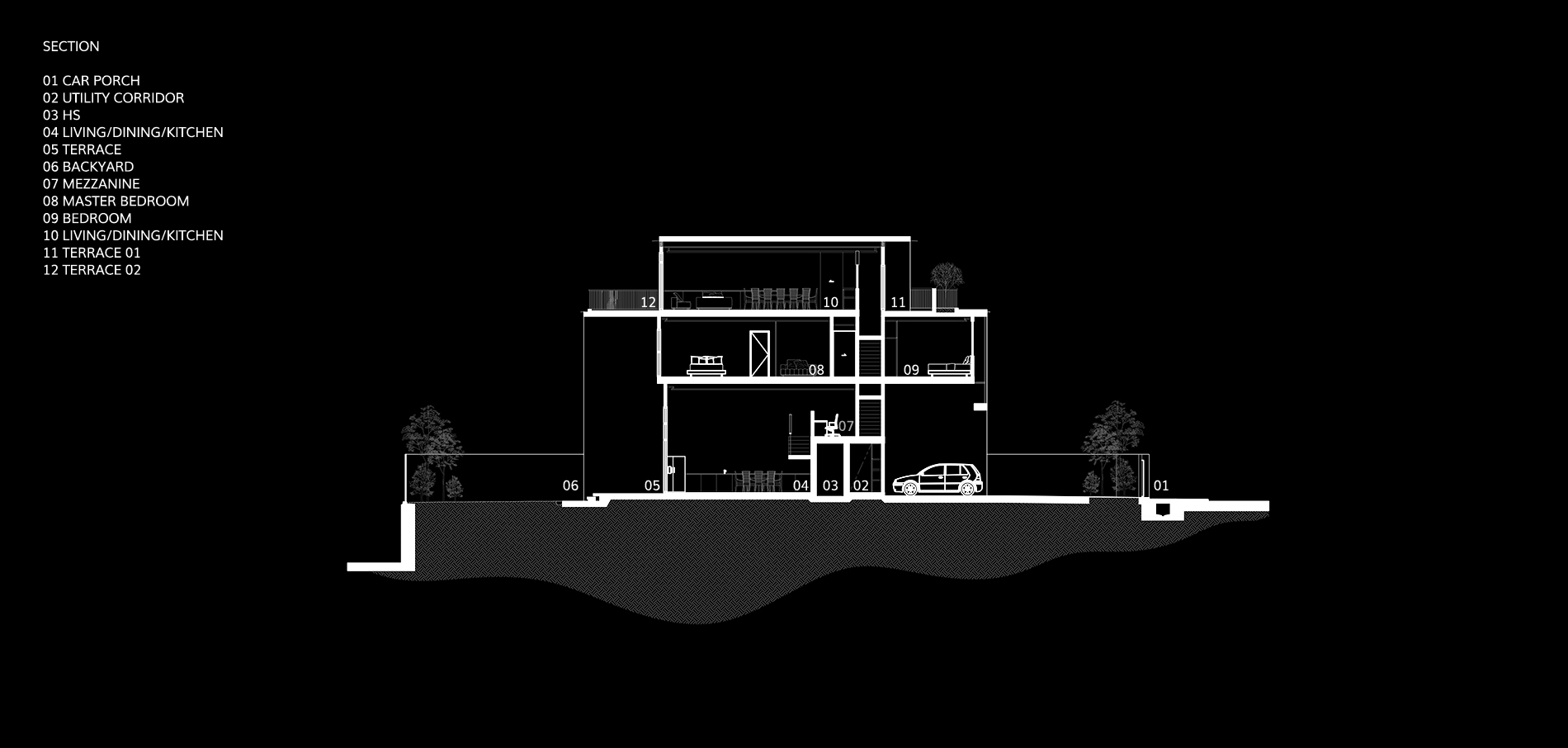 They say it takes a village to raise a child. The Village Houses are a spatial rendition of that idiom, where an extended, multi-generational family gathers for meals and activities, while retaining their own private spaces, within a series of 3 conjoined terraces houses.

Conceived from the family's wish of shared living, the grandparents' single storey house was demolished, and the Village Houses built upon that same plot of land. The initial gesture of a large portal frame with a smaller one sitting atop defines the built area of the site. Within those frames, volumes of family and private spaces are inserted, amalgamated and teased apart, creating circulation, outdoor and utility rooms which allow for transitions between gathering and individual areas.

Akin to the structure of a family tree, the organization of the Village Houses moves downwards through the generations. The smaller frame on the attic floor holds the elders' private living areas, separated by a shared lounge and dining space for the whole family. The larger frame below is subdivided into 3 segments, each housing a sibling and their own families. Bedrooms are located on the 2nd floor, with parents' and children's rooms separated by a circulation core. On the 1st floor, a utility corridor transitions the car porch into the living/dining double-volumes, which is overlooked by a flexible mezzanine space.
Gatherings are a frequent occurrence within the Village Houses, ranging from daily meals to large celebrations. Each of the Village Houses' double-volumes have an elevation of fixed windows and full- length sliding glass doors, inviting natural light and forming a seamless transition with the back terraces and yard. Similarly, the attic communal space opens out through sliding glass doors into a roof terrace. Activities are able to spill over from internal to external, while maintaining a sense of togetherness.

With a number of young children and elders in the family, creating a safe environment was key. The parents' bedrooms overlook the rear, and the children are allowed full run of the backyard, while remaining safe within view of family members at various indoor areas. The children's bedrooms facing the main road are shielded by an angled façade, affording light and views while retaining their privacy. A lift was installed within the central Village House to ease the physical stress of vertical circulation for elders and toddlers, and common areas are kept as open as possible, allowing the family to reconfigure them to suit changing needs.

The Village Houses were conceptualized as a safe space for raising children, for growing old, and for coming together as a family. And just as a village grows and changes with its inhabitants, we hope that the Village Houses too will serve the family well for many generations, as an expression of their lives and enabling their bonds.
TEAM
Tiah Nan Chyuan, Lee Hui Lian, Tan Qian Rou
COLLABORATORS
Architect: FARM Architects Pte Ltd | Photograper: Studio Periphery&nbsp
This project is designed and realised by FARM Architects.