Over the years, FARM has amassed a number of considerations and curiosities, surfaced through our projects. FARMACY is a repository for those thoughts and experiences. It is a space to gather, develop and share ideas or information encountered in our work. Through FARMACY, we hope to examine the trajectories of design hinted at today, contributing to a continuous discourse on topics intertwined with our industry and practice.
FIELD-NOTES-002
What's cooking?
Food court design is its own creature. Each one is an ecosystem of tenancy requirements, operations and user logic. This Field Note on food court design discusses its heart: the food stalls themselves. Over time, we have gleaned a set of helpful tips for all but the most bizarre situations. The diagram below highlights important elements of the food court stall, and their relationships. Remember to check authority requirements for food retail outlets as well. Beyond that, flex your creativity and get as wild as your client will allow.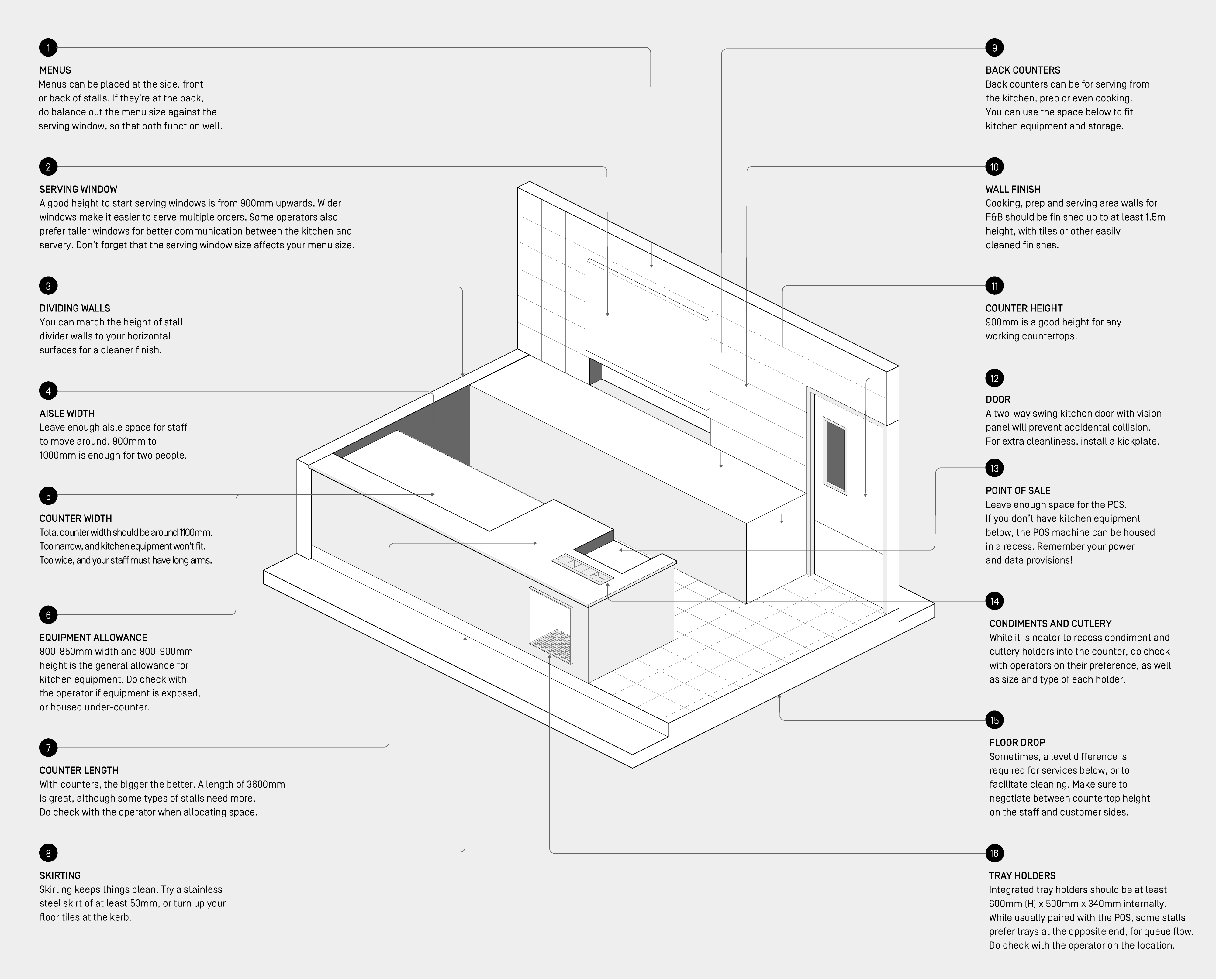 TYPICAL FOOD COURT STALL SETUP
Typical counter sections
The construction of your counter can vary throughout its length, depending on which elements need to be introduced at certain points. Here are some suggestions for the most common types of counter sections. Of course, other details such as LED lighting, skirting, or decorative shelving can be included for both design and functionality. Don't forget your typical dimensions when playing around with design composition.
TYPICAL COUNTER SECTION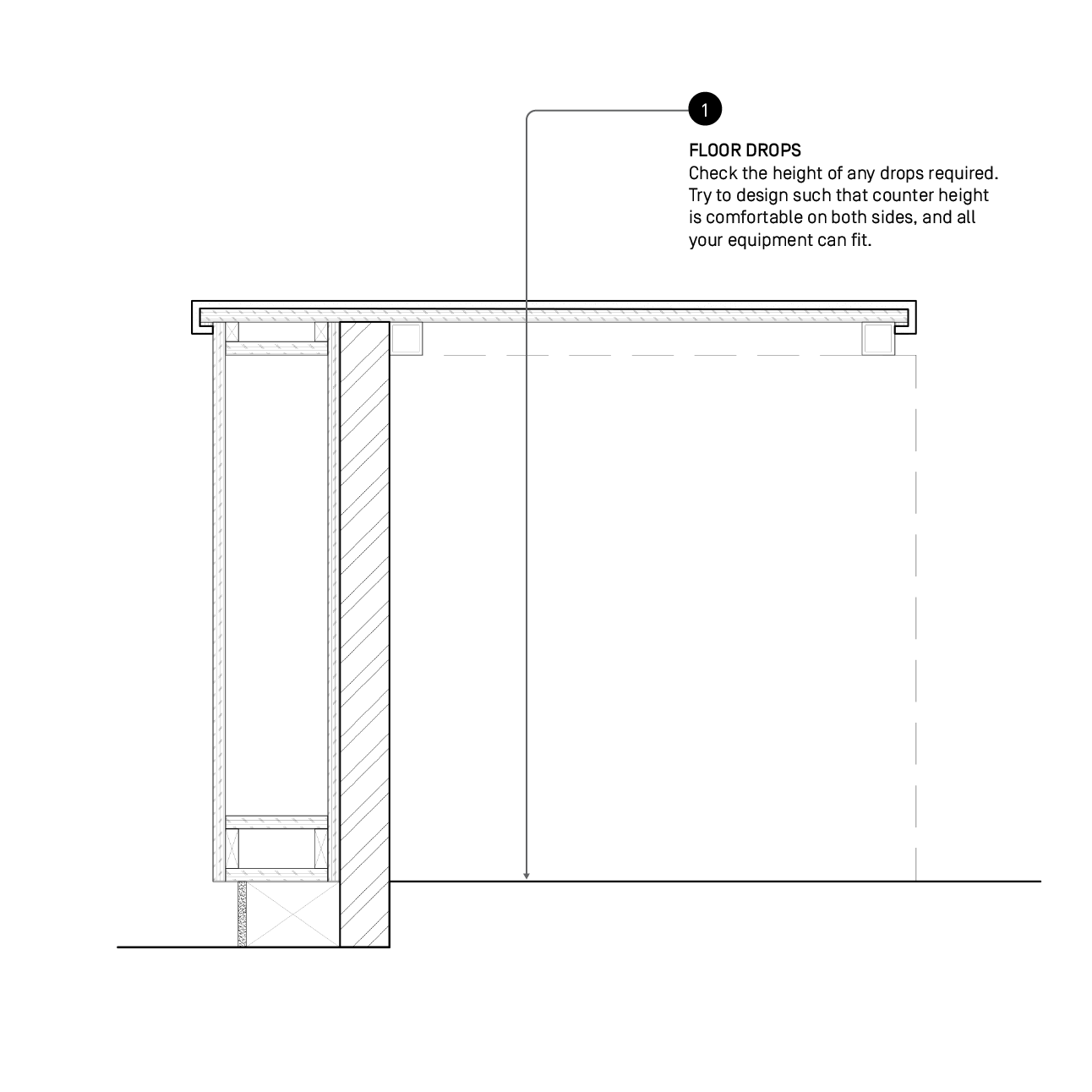 TYPICAL COUNTER SECTION: DROP LEVEL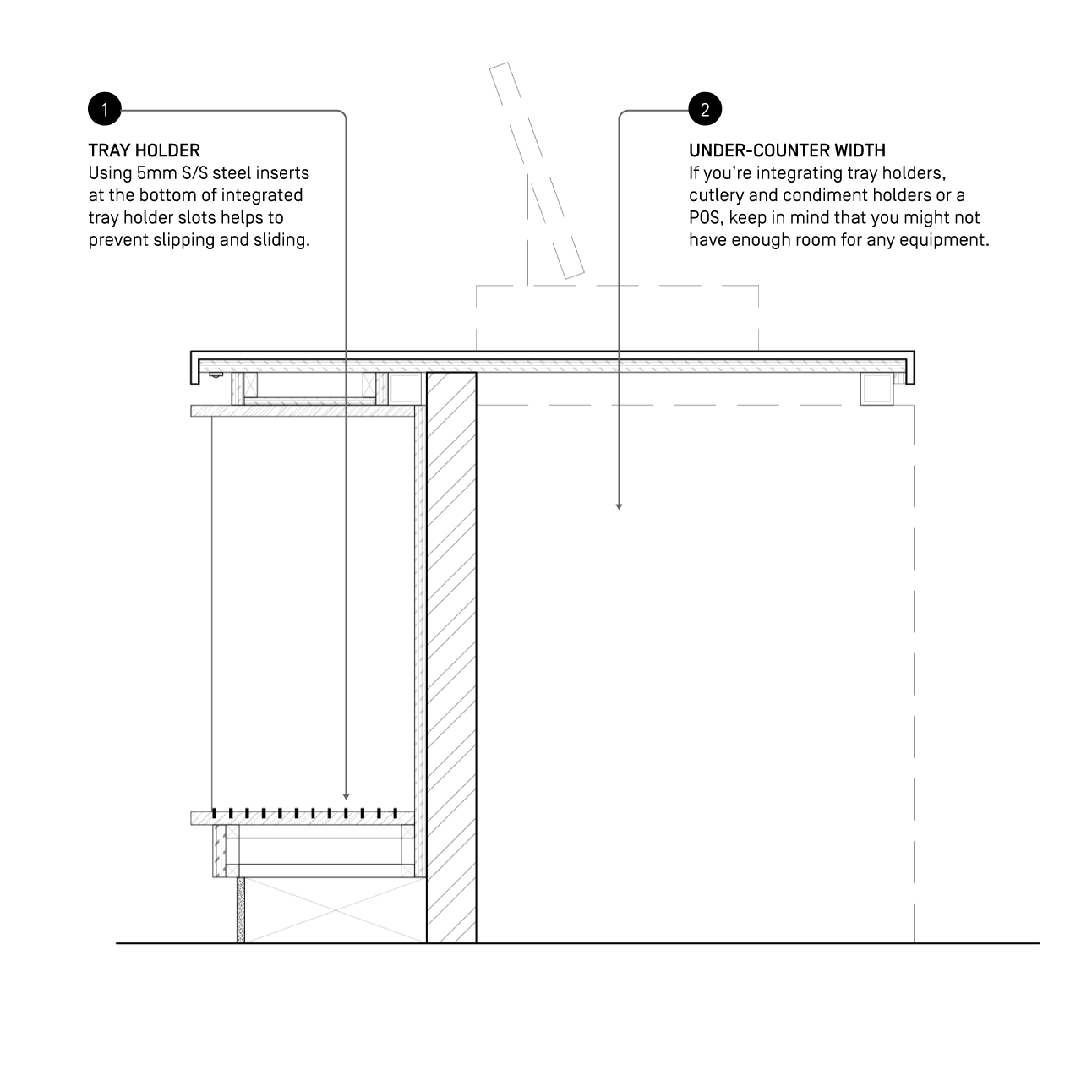 TYPICAL COUNTER SECTION: TRAY HOLDER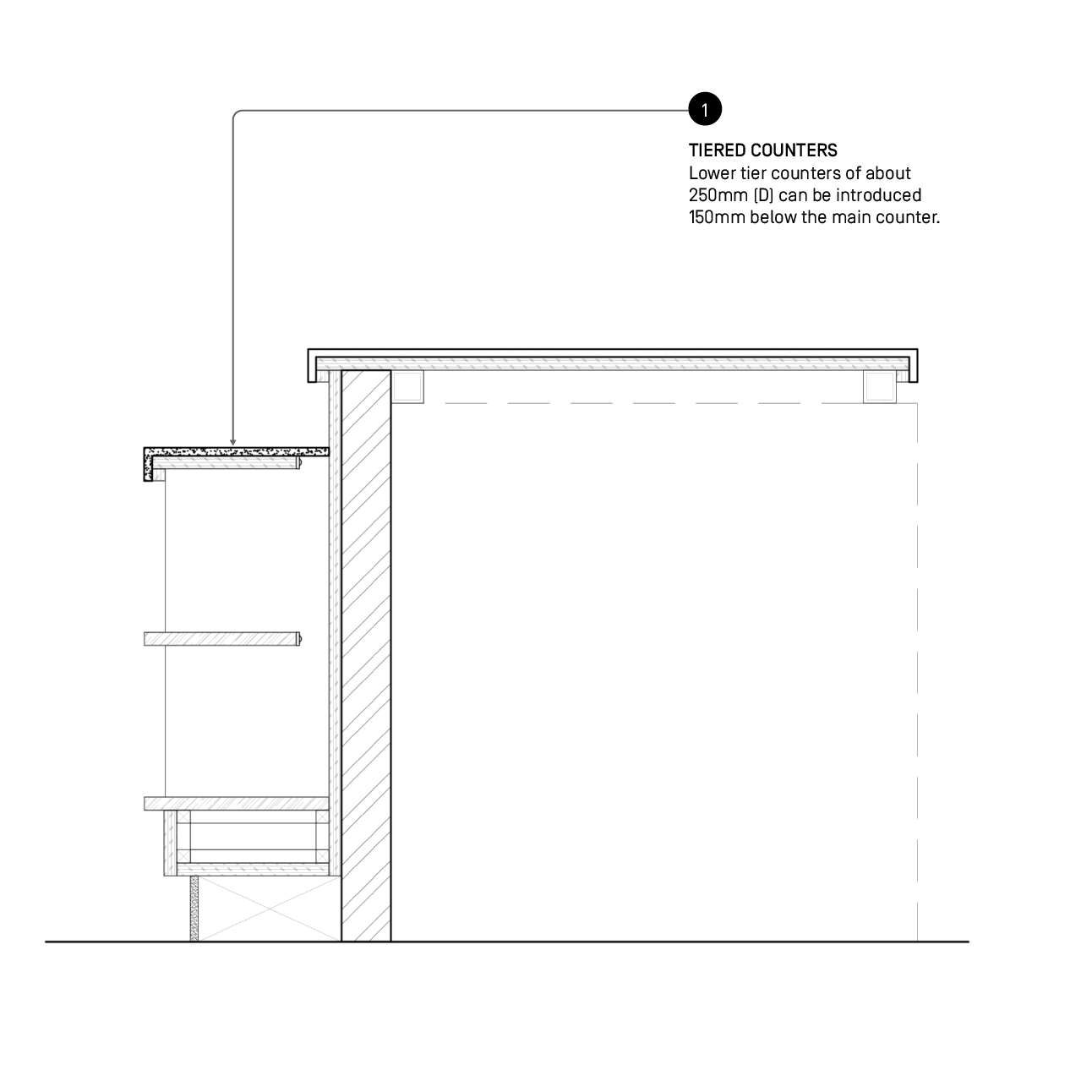 TYPICAL COUNTER SECTION: TWO-TIERED
Overhead provisions
Overhead M&E provisions are part and parcel of F&B design. For a sleeker design, you can hide bulky equipment within overhead carpentry. Do check if specialist equipment such as exhaust hoods and fire suppression systems are to be included, and what their requirements are. The overhead carpentry can also serve as a vehicle for signage, lighting, menus and other items. Finally, remember to check with your M&E Engineer if everything works.
TYPICAL OVERHEAD PROVISIONS
Signage and menu locations
Is it a food court stall if it doesn't have a menu? Here are some locations for signage and menus we have found to work well. Remember to allow for visibility from a distance, and avoid having other objects block the customer's line of sight. If you can't see it during construction, they definitely can't see it during operation.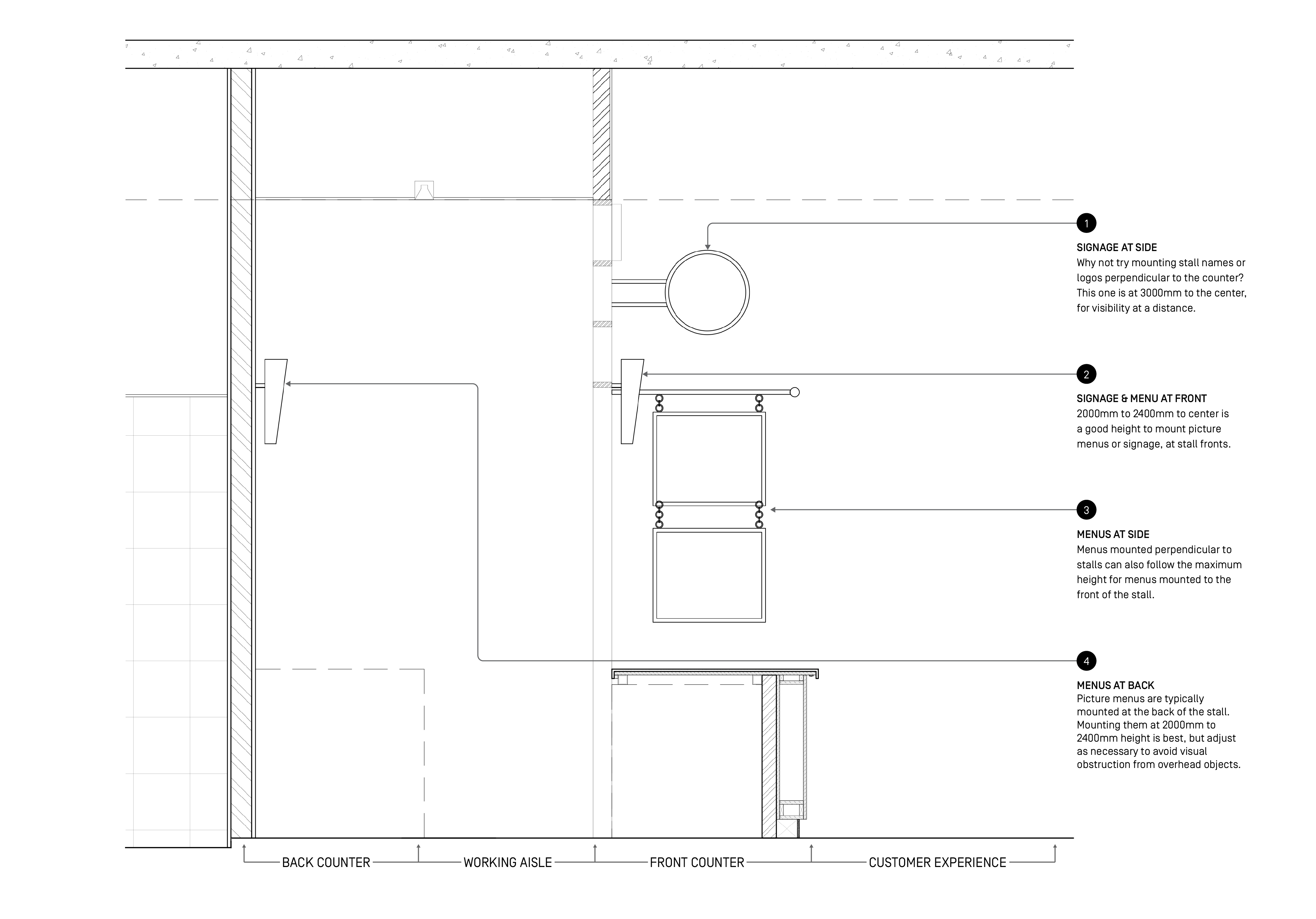 POSSIBLE SIGNAGE & MENU LOCATIONS