We need light to be happy. An office worker spends most of his time in an indoor environment. As creatures of comfort, our productivity is affected by how our workspaces are illuminated. The intensity, colour, form, proximity and amount of indoor light contribute to our physiological and psychological well-being. Monotonous lighting, glare and other overlooked lighting conditions can spoil a good design. This Field Note will begin to offer some basic lighting design suggestions for typical office spaces. Here, we document a list of lux levels and colour temperatures used in various interior configurations. Of course, as you read on, don't forget to consult your trusty lighting specialist should you have specific needs or concerns.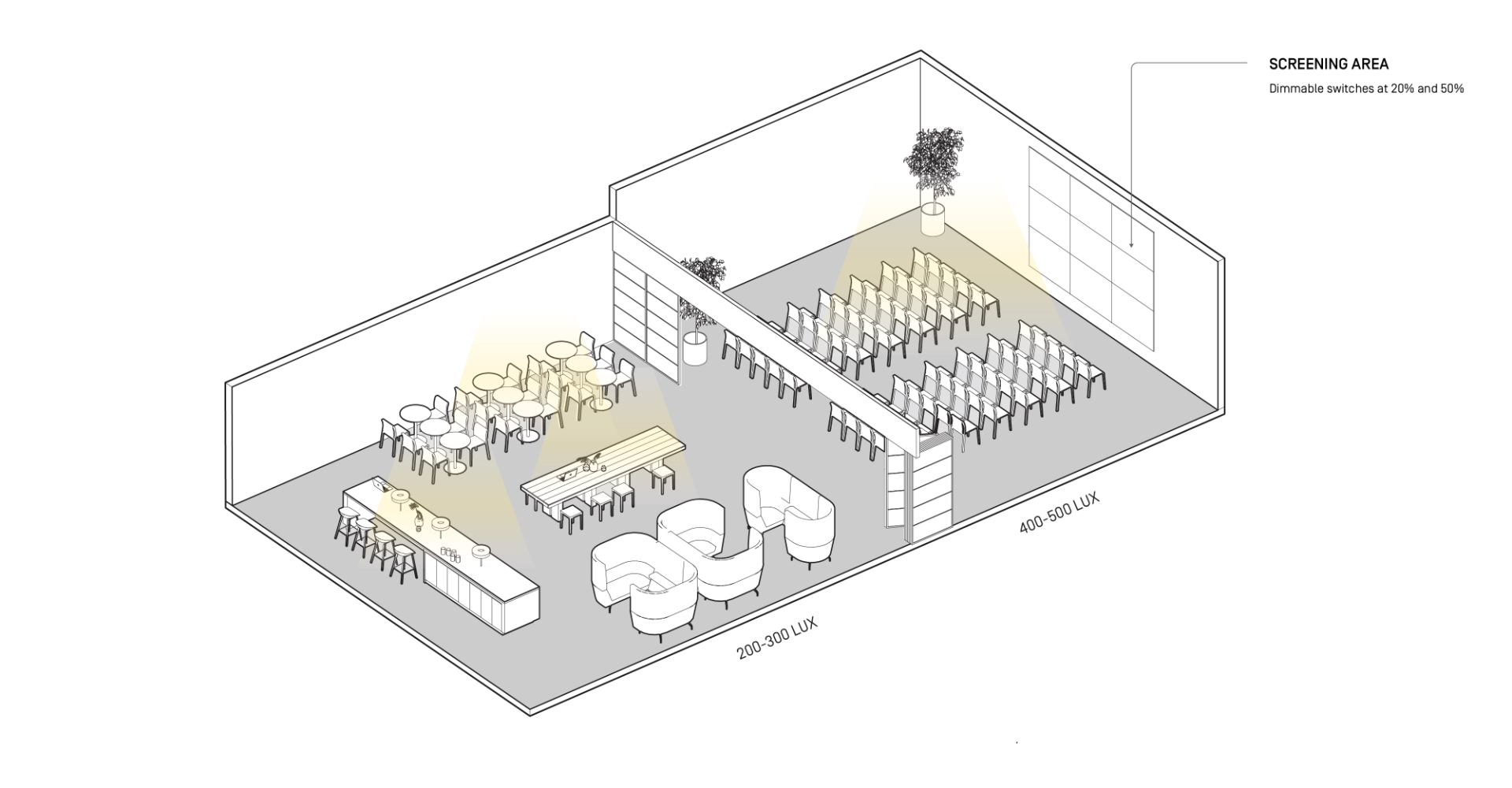 MULTIPURPOSE SPACE - PANTRY AND PROJECTION ROOM / VARIED LUX / 3000K
Warm light colours can be used to create a homely ambience, but too much of it might cause your office workers to fall asleep. Generally, cooler colours are used for workspaces, while warmer colours are used for the pantry, lounge and resting spaces. Cove lights typically have a warmer colour, to supply an ambient glow. But a change in light colour may affect or compromise lux levels up to 10%.
SMALL MEETING ROOM (6-8 PAX) / 450-500 LUX / 4000K
MEDIUM MEETING ROOM (10-12 PAX) / 450-500 LUX / 4000K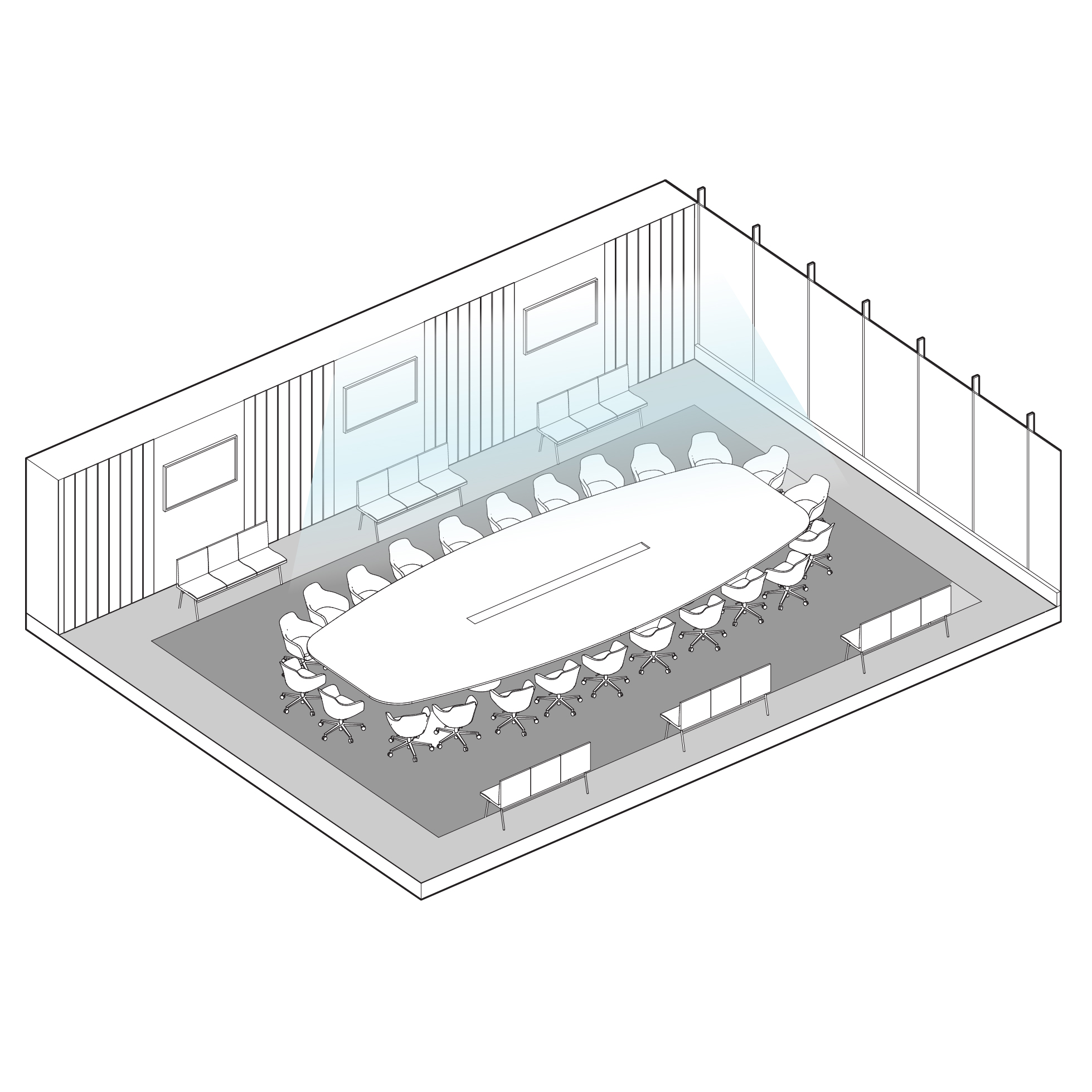 LARGE MEETING ROOM (>20 PAX) / <300 LUX / 4000K
DISCUSSION ROOM (2-3 PAX) / 300-400 LUX / 4000K
Lux levels do not necessarily correlate with the size of a space; a larger space may not be very brightly lit, but has task lights in focal points of the room where needed. Lux level requirements have more to do with the type of close work that is being carried out in a space. Light plays a part in creating an aesthetically pleasing work environment, a bonus to us office dwellers. Accent lights can be used to illuminate wall-hung artwork or photographs, or simply to create visual interest in the room. They can bring out textured finishes like stone or high-end wood veneers on a feature wall.


ENERGY-EFFICIENT LIGHTING
When employing lux levels, remember to consider the Green Mark Standard for office spaces, that is a usage rate of 8W per square meter. Smart technologies have been widely applied to solve the problem of energy efficiency – motion sensor lights are fast making their way into our buildings. However, we are constantly investigating ways in which lighting can be enhanced with lower energy consumption. One of the most obvious limitations of pre-operation lighting simulation is the exclusion of light emitted from windows or adjacent spaces, such as skylights, corridors and glass-partitioned rooms. We can use energy more prudently by reducing artificial light during the day, and amplifying them at night. Sunlight is between a startling 50,000-100,000 lux! So do not forget to embrace sunshine – stronger, brighter and a source of vitamin D.
PANTRY / 150-350 LUX / 3000K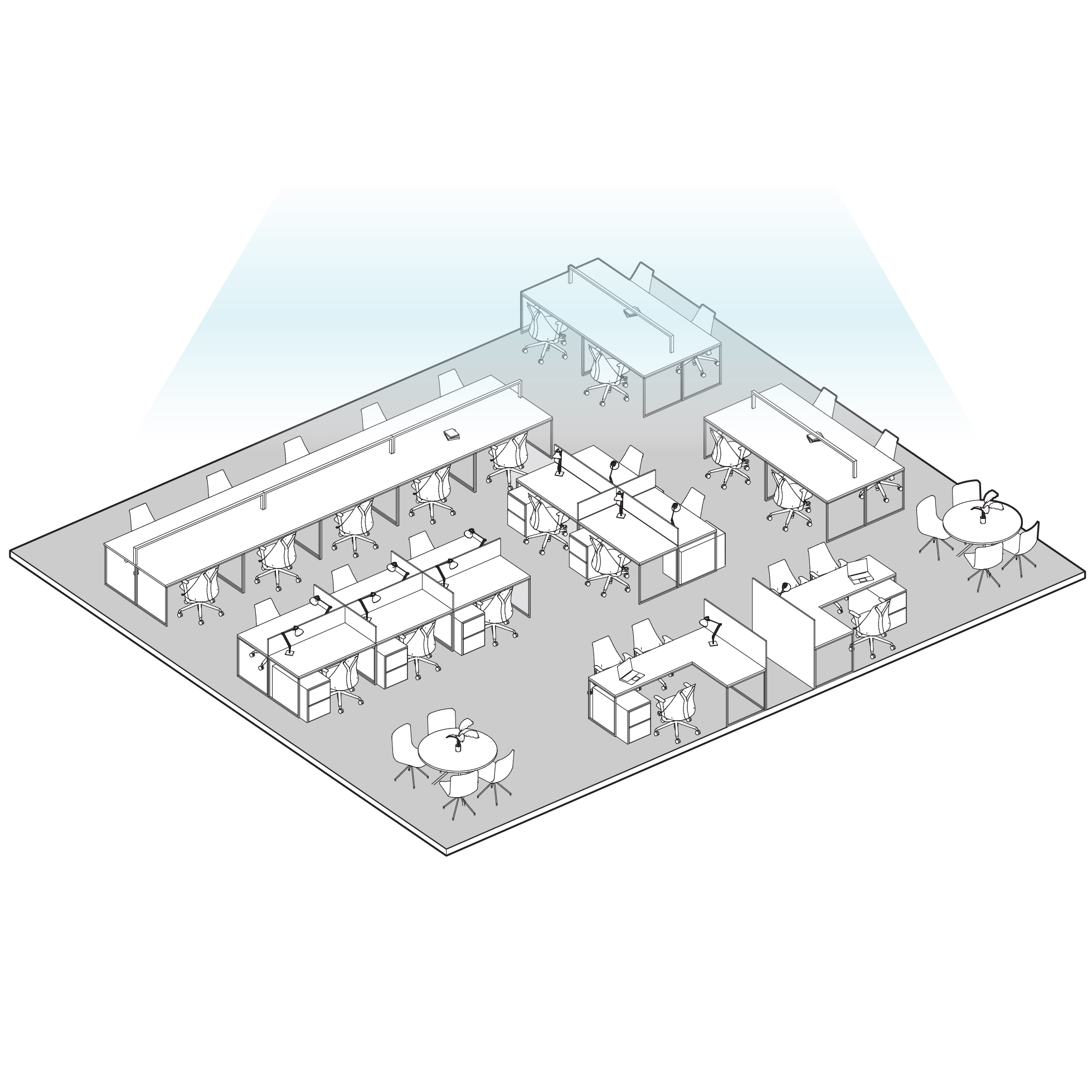 OPEN OFFICE / 400-500 LUX / 4000K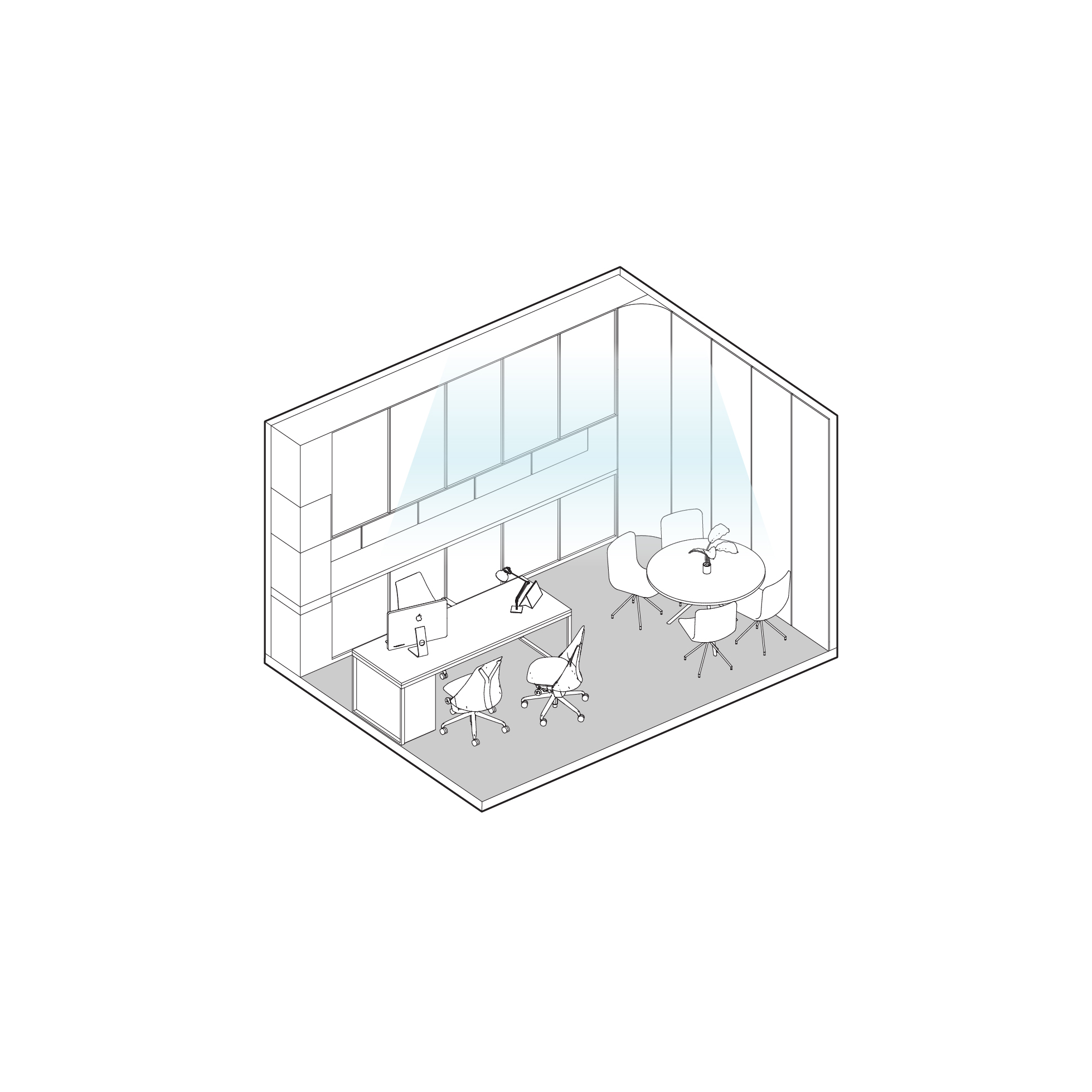 DIRECTOR'S OFFICE / 300-400 LUX / 4000-6000K / + TASK LIGHT / + ACCENT LIGHT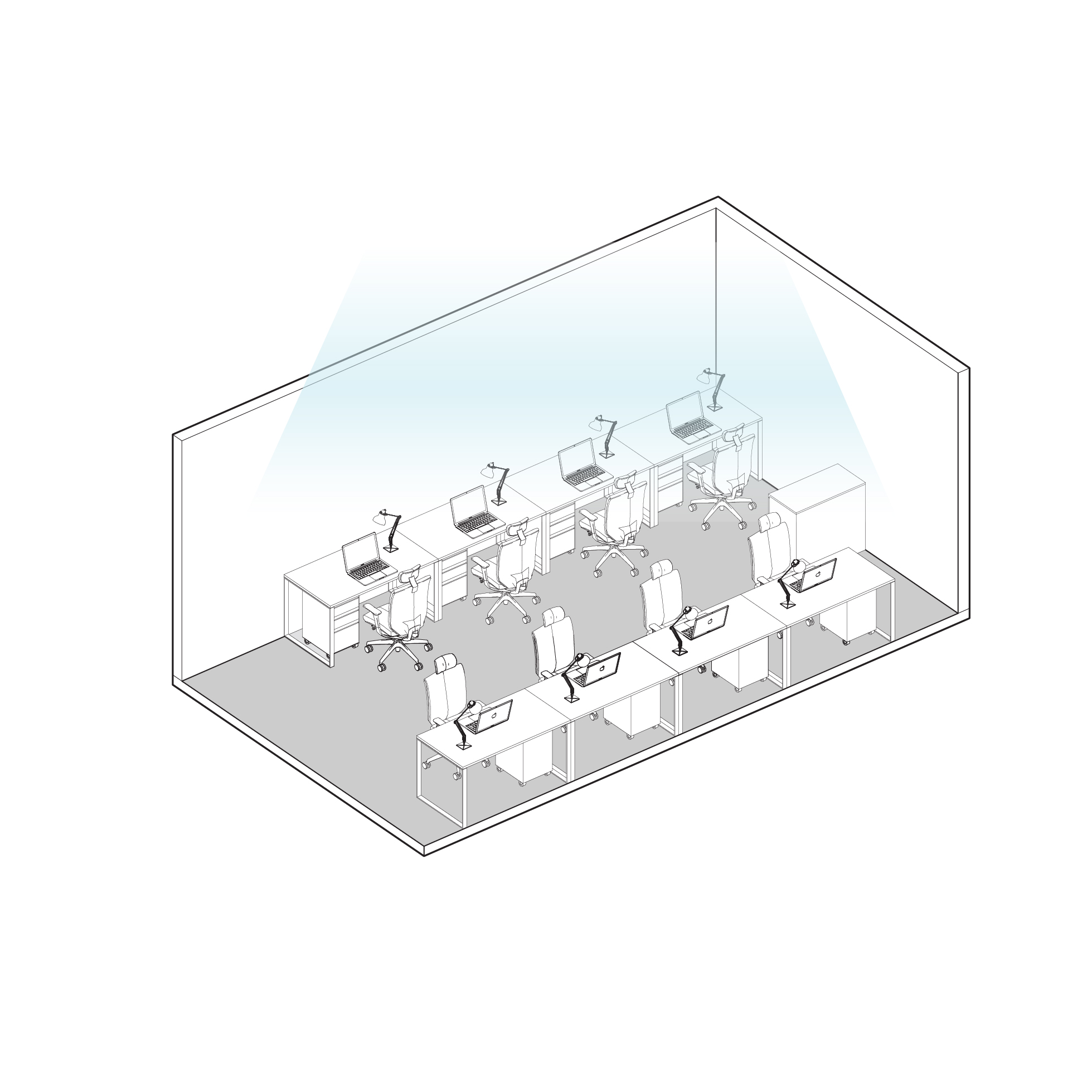 CLOSED OFFICE (8-12 PAX) / 300-400 LUX / 4000-6000K / + TASK LIGHT
Let's talk a little about heat. LED lights will not affect the temperature of the room, as the heat from the bulb travels upwards. Conversely, heat from halogen bulbs falls downwards. This may particularly affect smaller enclosed spaces like small discussion rooms and resting pods.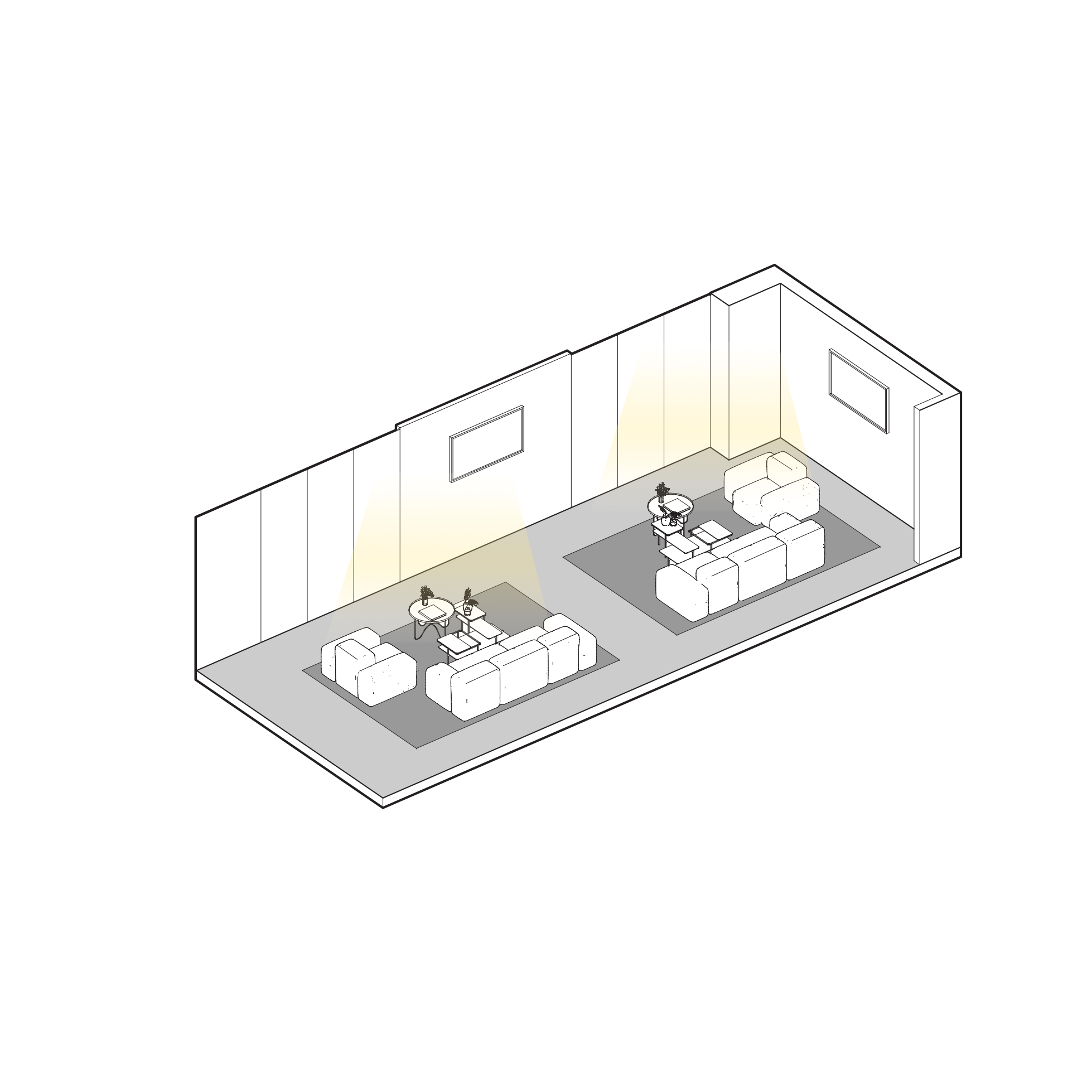 LOUNGE / 200 LUX / 3000K / + ACCENT LIGHT / + AMBIENT LIGHT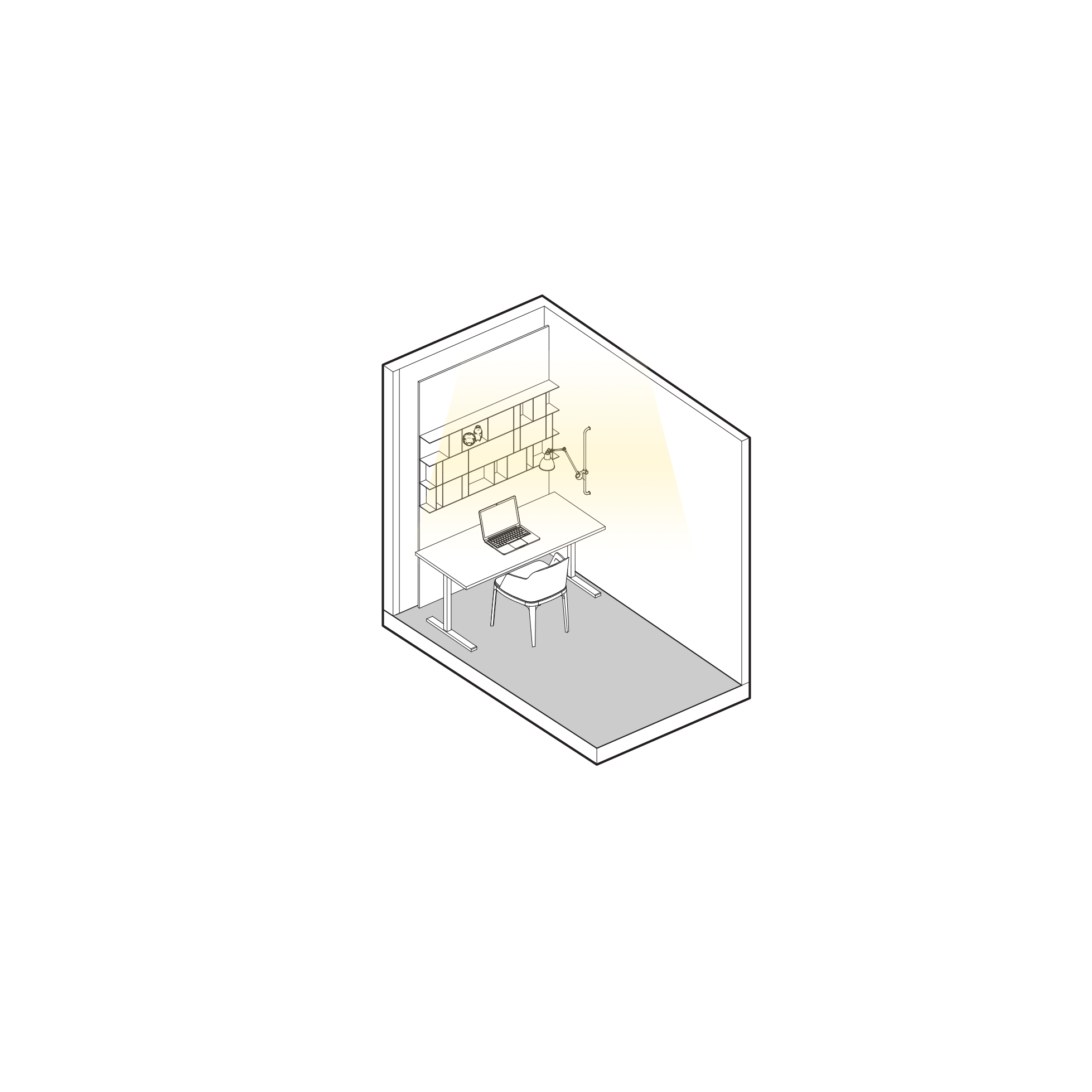 PERSONAL BOOTH / 200 LUX / 3000K / + TASK LIGHT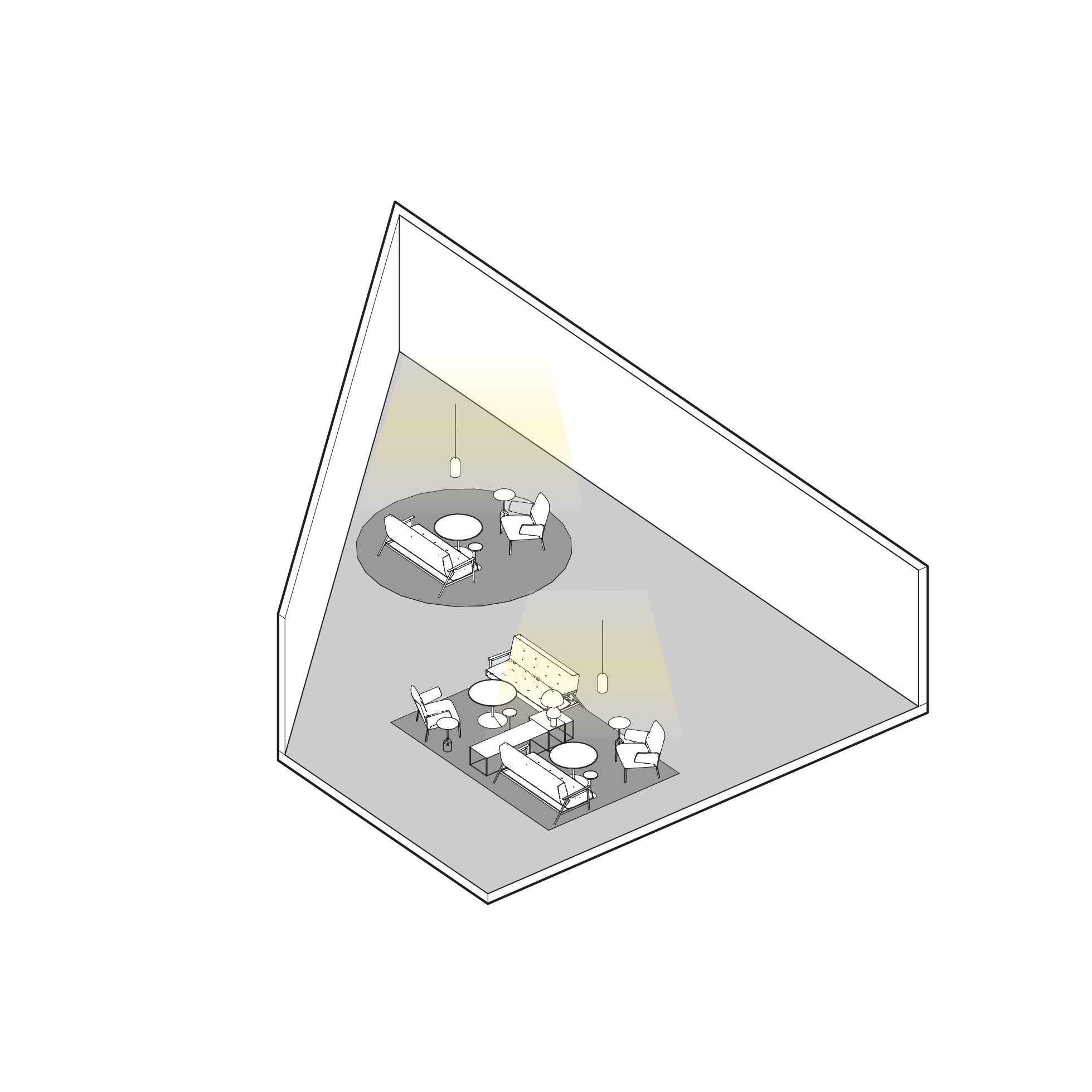 BREAKOUT SPACE / 300-400 LUX / 3000K / + ACCENT LIGHT
RESTING POD / 150 LUX / 3000K / + AMBIENT LIGHT
Do note that while lux levels indicate a certain level of brightness, they do not necessarily produce evenly lit spaces with sufficient light on the workplane. Our perception of light in a space may not be accurately represented by lux level and temperature. Other considerations also have to be made, such as the colour, reflectivity, opacity and porosity of materials used. For instance, a room lined with mirrors would seem much more brightly lit, although the amount of light emitted from the bulb is actually the same with or without them. Adjustments might be required based on site conditions, especially in odd-shaped rooms. In some cases, ambient lighting may not sufficiently illuminate the room due to its shape (refer to Breakout Space). A good suggestion to counter this problem might be to install downlights along the perimeter of the room. Diffused downlights can help to avoid harsh spots, to make some afternoon reading more enjoyable.
Room Type
Lux Level
Temperature (K)
Accent
Light
Task
Light
Ambient
Light
Multipurpose Space
Varied
3000
Small Meeting Room (6-8 Pax)
450-500
3000
Medium Meeting Room (10-12 Pax)
300-400
4000
Large Meeting Room (>20 Pax)
<300
4000
Discussion Room (2-3 Pax)
300-400
4000
Utility Room
150-350
3000
Open Office
400-500
4000
Director's Office
400-500
4000-6000
●
Closed Office
400-500
4000-6000
●
Lounge
200
3000
●
●
Personal Booth
200
3000
●
Breakout Space
300-400
3000
●
Resting Pod
150
3000
●
BEST WHEN TAKEN WITH A PINCH OF SALT.
PLEASE EMAIL
FARMACY@FARM.SG
WITH YOUR FEEDBACK, OR IN CASE OF ANY INACCURACIES.
REF. NO.
HACKS-001-OFFICE-LUX-LEVELS
CONTRIBUTOR(S)
SARAH LEE, HO SHUWEI, GARETH LOW