A guide to: Common book bindings
We come across many different kinds of books throughout our lives, from bedtime stories to school textbooks, graphic novels, and even the sales brochure that you pore over when buying your dream home. While flipping through those various pages, have you ever wondered how books are constructed?

There are many ways to put a book together, some of which are cost-effective and time-efficient, while others are pricier but result in a premium product. Each method has its advantages and disadvantages, but how do you choose the one most suited to your intentions? In this Field Note, we briefly discuss common bookbinding methods, as well as the elements which make up a book.


ASSEMBLING THE BOOK BLOCK
Pages are the heart of a book. Depending on how the book will be bound, pages will be cut and assembled differently. The two methods most frequently used are:

LOOSE SHEETS

SIGNATURES (SECTIONS)
As the term suggests, loose sheets are individual printed pages, which can then be trimmed down to the final page size.
A signature or section is a group of pages, typically sewn together at the folds.
EXAMPLE OF 16PP SIGNATURE SHEET

The pages of a signature are printed on a large sheet of paper, seemingly out of order. However, the pages have been planned and arranged to appear in sequence, once the printed signature sheet has been folded and trimmed. This forms the signature. Due to its construction, the number of pages in a signature has to be in multiples of 4. A typical signature contains 16 pages.

The loose sheets or signatures will then be formed into a book block, through gathering, glueing or sewing them together. For more complex binding methods, endpapers—the coloured or decorative sheets at the front and back of a book—will be added to help attach the book block to its covers.
Creating the book block is only one part of the binding process. The full bind includes introducing covers and accessories like ribbon markers. Here are the binding methods more frequently spotted in the wild:
SADDLE STITCH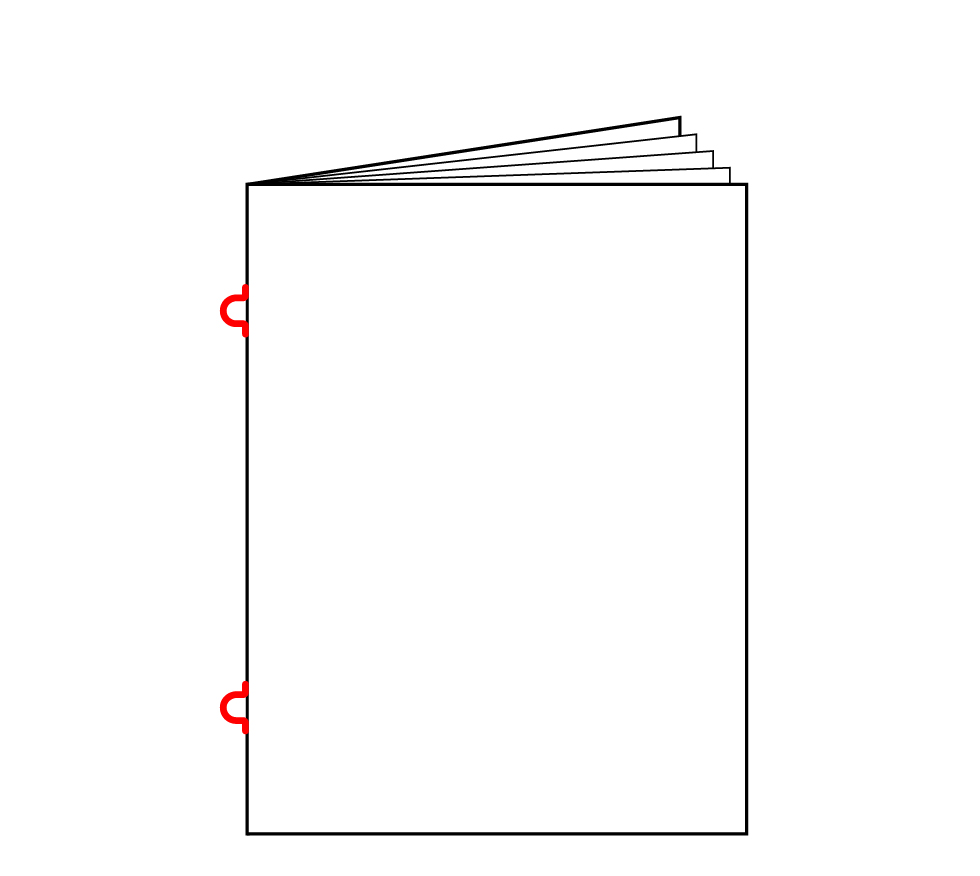 LOOP STITCH
A very common and cost-effective bookbinding method. A large single signature comprising all the pages, with the cover as the outermost sheet, is stapled through the center fold line with wire staples. Do keep the page count to around 64-80 pages (or 16-20 double-sided sheets), as a bulkier signature will have trouble laying flat when open.
Similar to the Saddle Stitch. Instead of regular staples, a special loop-shaped staple is used. The loops allow for multiple booklets to be compiled into a ring folder, creating great flexibility for modular books.
SADDLE SEWN (CENTER SEWN)
PERFECT BIND / PUR BIND
Similar to the Saddle Stitch, except that instead of using wire staples, a thread is sewn down the center fold line. The thread ends can be left loose, although they are usually tied off and trimmed. Saddle Sewing is comparably more expensive than Saddle or Loop Stitching, as it involves more dedicated manual work.
Another common, inexpensive method of binding, where the pages and a joint front/back cover are glued together at the spine. Perfect Binding can be done with pages in loose sheets or signatures. Most soft cover or paperback books use Perfect Binding. PUR Bind is a variation that uses a longer lasting adhesive.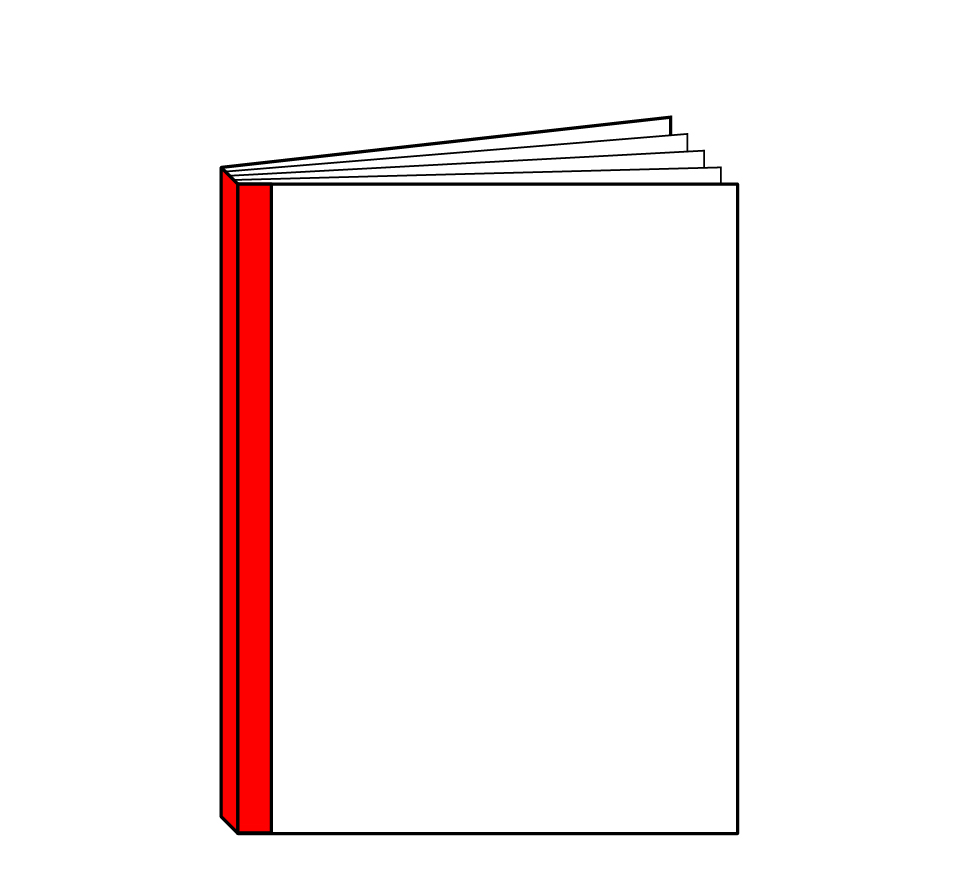 TAPE BIND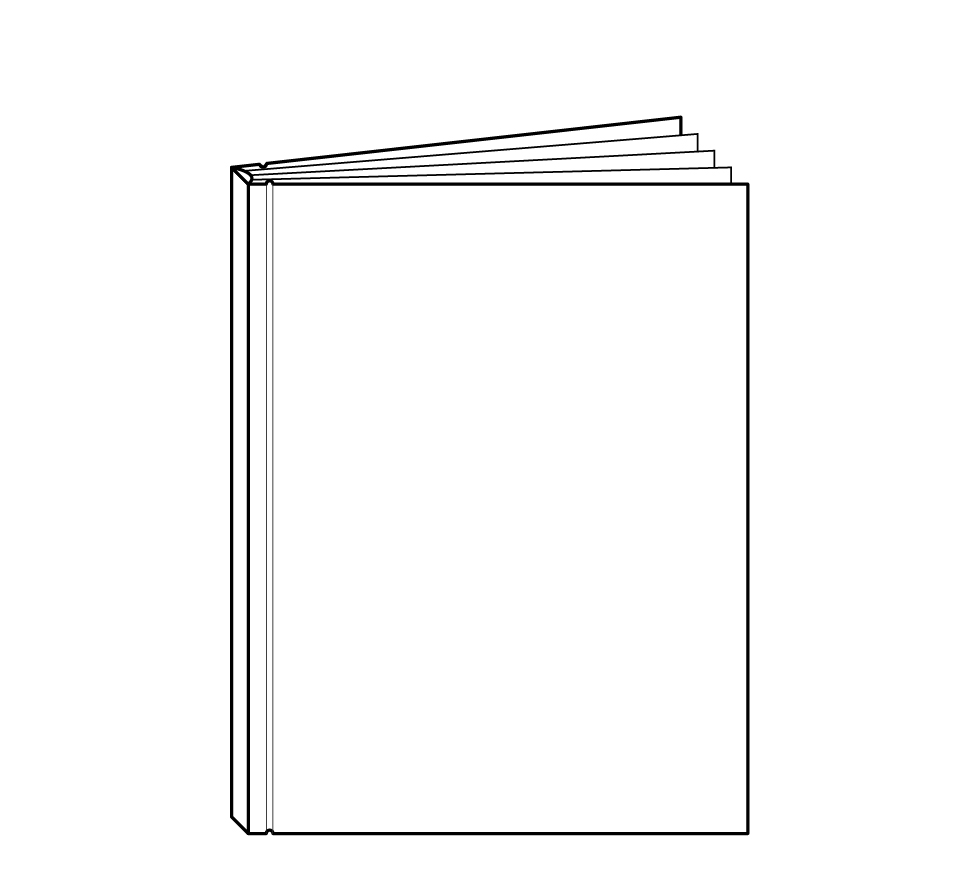 CASE BIND (HARDCOVER)
Yet another cost-efficient, time-efficient binding. Similar to Perfect Binding, except that instead of glue, an adhesive tape that wraps around the spine holds the individual covers and pages together. Pages should preferably be stitched together before attaching the tape, to make the book more secure.
This is the standard hardcover book binding. The cover is usually made using grey-board in three segments—front, spine and back—and then wrapped using fabric, paper or leather. The wrapped cover is then attached to the front and back of the book block via endpapers.
SWISS BIND
SCREW BIND
With Swiss Bindings, the front cover and spine are not attached to the book block. Only the back cover adheres to the block. Since the spine is exposed when first opening the book, more decorative methods of stitching or creating the book block can be used.
Holes are drilled through loose sheets, a barrel post is inserted through the holes, and a cap screw finishes off the post to hold everything together. Using Screw Binding allows for pages to be removed, replaced, or added easily. Swatch books often use Screw Binding for this reason.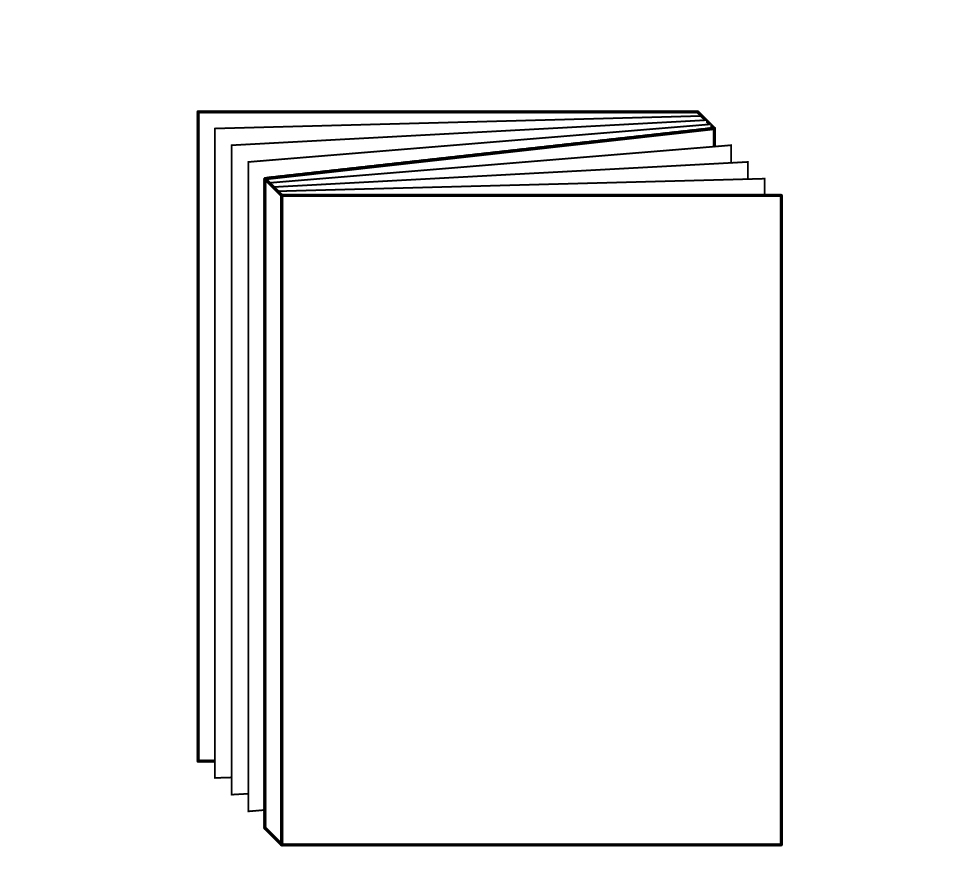 DOS-À-DOS BIND (BACK-TO-BACK)
WIRE BIND / SPIRAL BIND
A more specialised binding method. Two separate books are bound together in such a way that they share the same back cover board, but different spines and front covers. Each book opens in a different direction.
In Wire Binding, a series of holes are punch through loose sheets, which are inserted onto a 'C' shaped wire spine. The wire spine is then squeezed closed until it is round, and the pages secured. Spiral Binding uses the same method, except that the spine is a continuous spiral loop that is threaded through the holes in the sheet.
Of course, books can be bound in many other ways for more specific and specialised purposes, or simply for aesthetics. No matter the method, the basic sequence of putting together a book, from pages to book block and then finished binding, still remains. Having an understanding of how books are constructed can help you expand your creativity in book design; why not try using pages of different sizes and materials, or combining different binding methods?

For a commercial project, do remember that you can always sit down and have a discussion with your printer, to see if what you have in mind is viable. Otherwise, don't be afraid to get creative and explore!
BEST WHEN TAKEN WITH A PINCH OF SALT.
PLEASE EMAIL
FARMACY@FARM.SG
WITH YOUR FEEDBACK, OR IN CASE OF ANY INACCURACIES.
REF. NO.
HACKS-010-WELL-PUT-TOGETHER
CONTRIBUTOR(S)
EDWIN TAN, GOH SI JIE, OH WEN XIN