Lloyd's Inn Bali
By integrating an immersive experience of nature with hospitality, Lloyd's Inn Bali provides a restorative, meaningful journey for guests.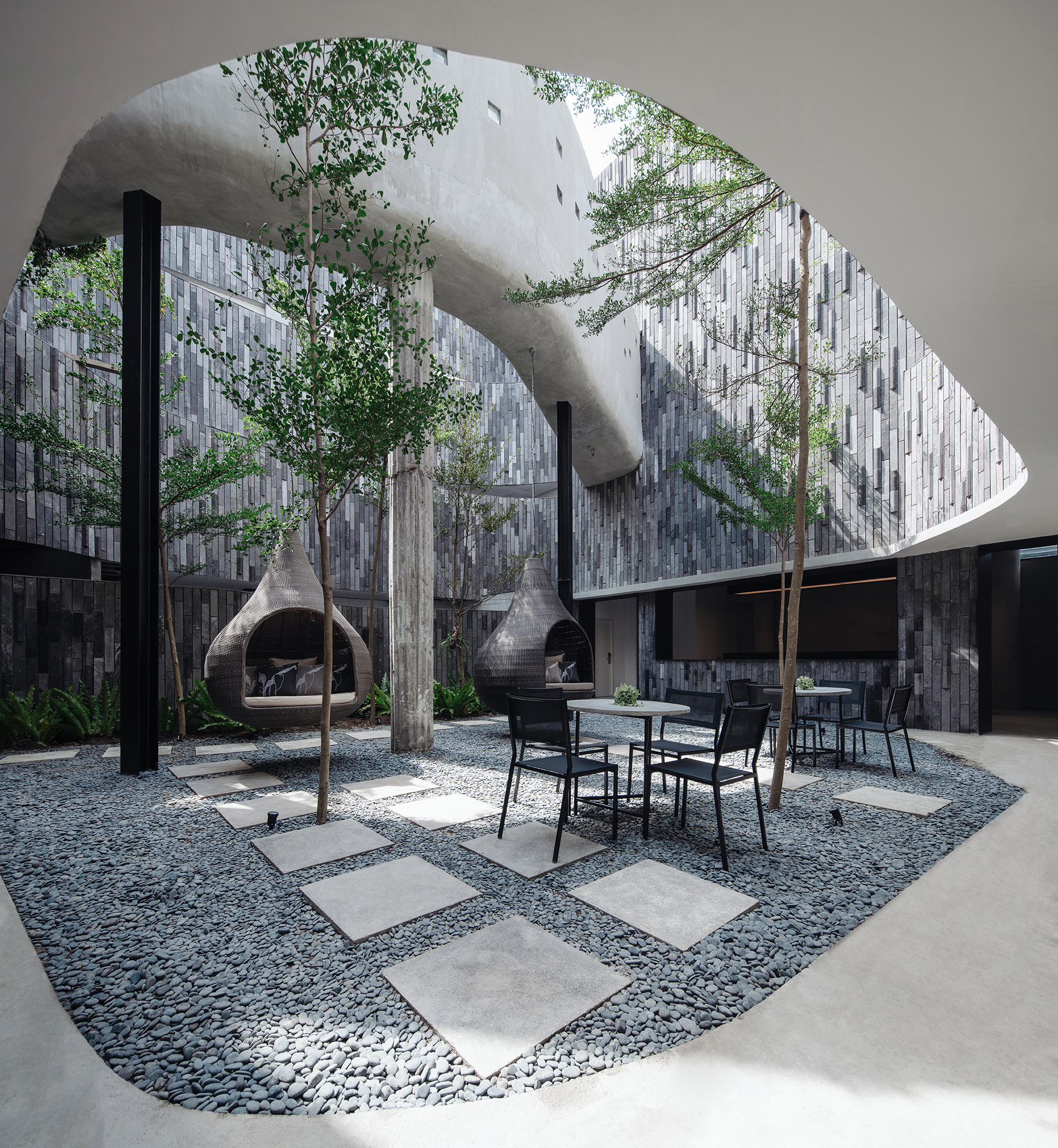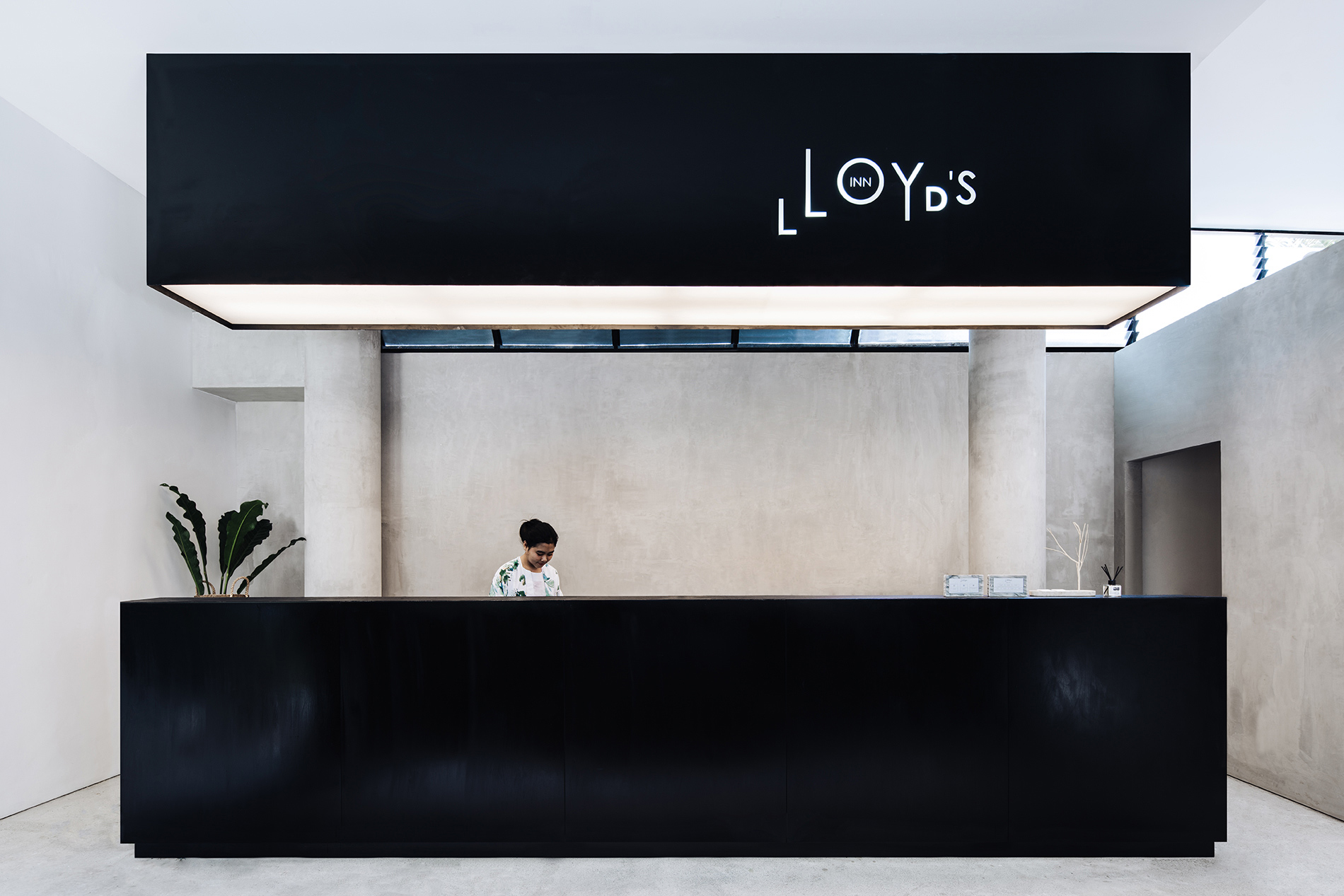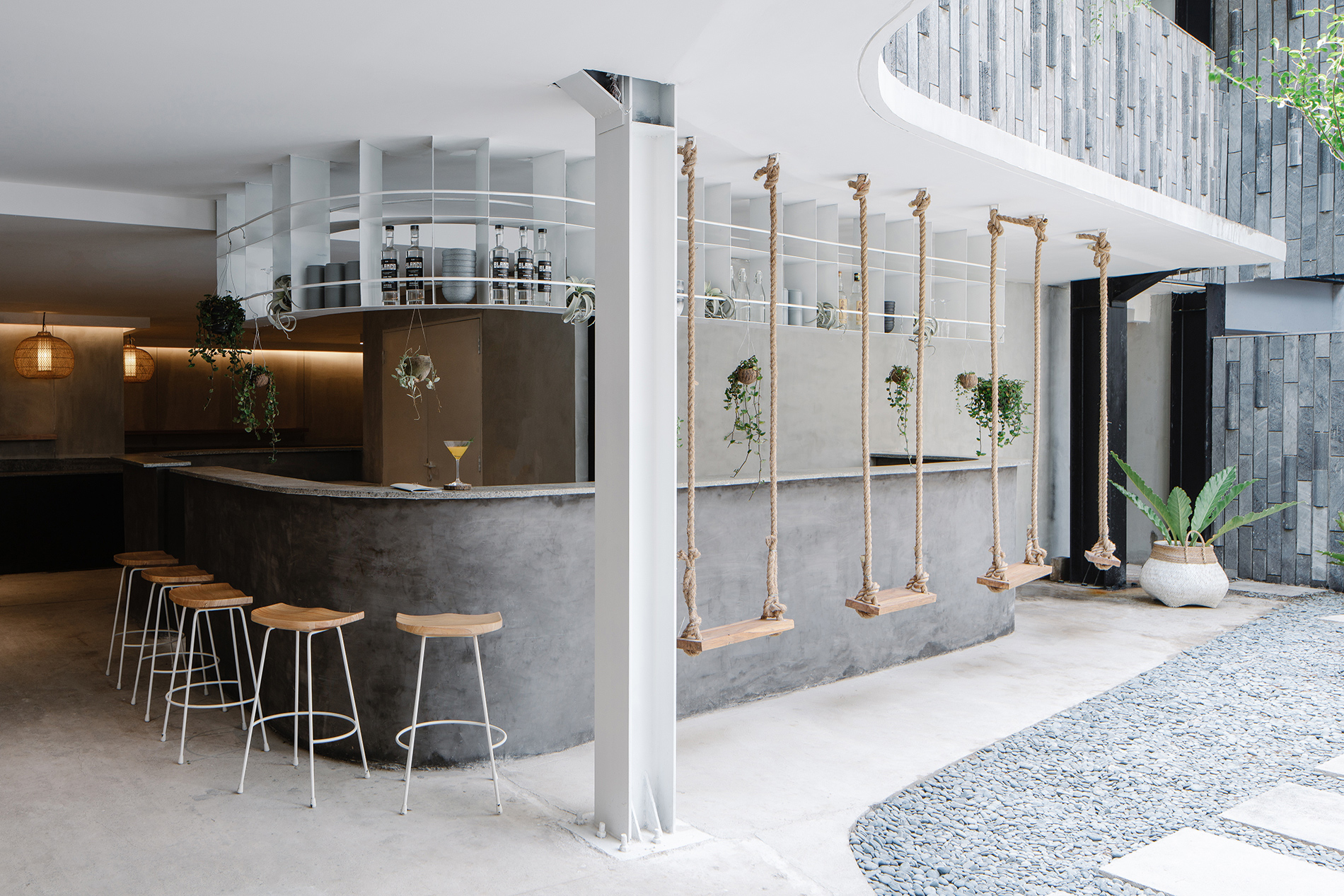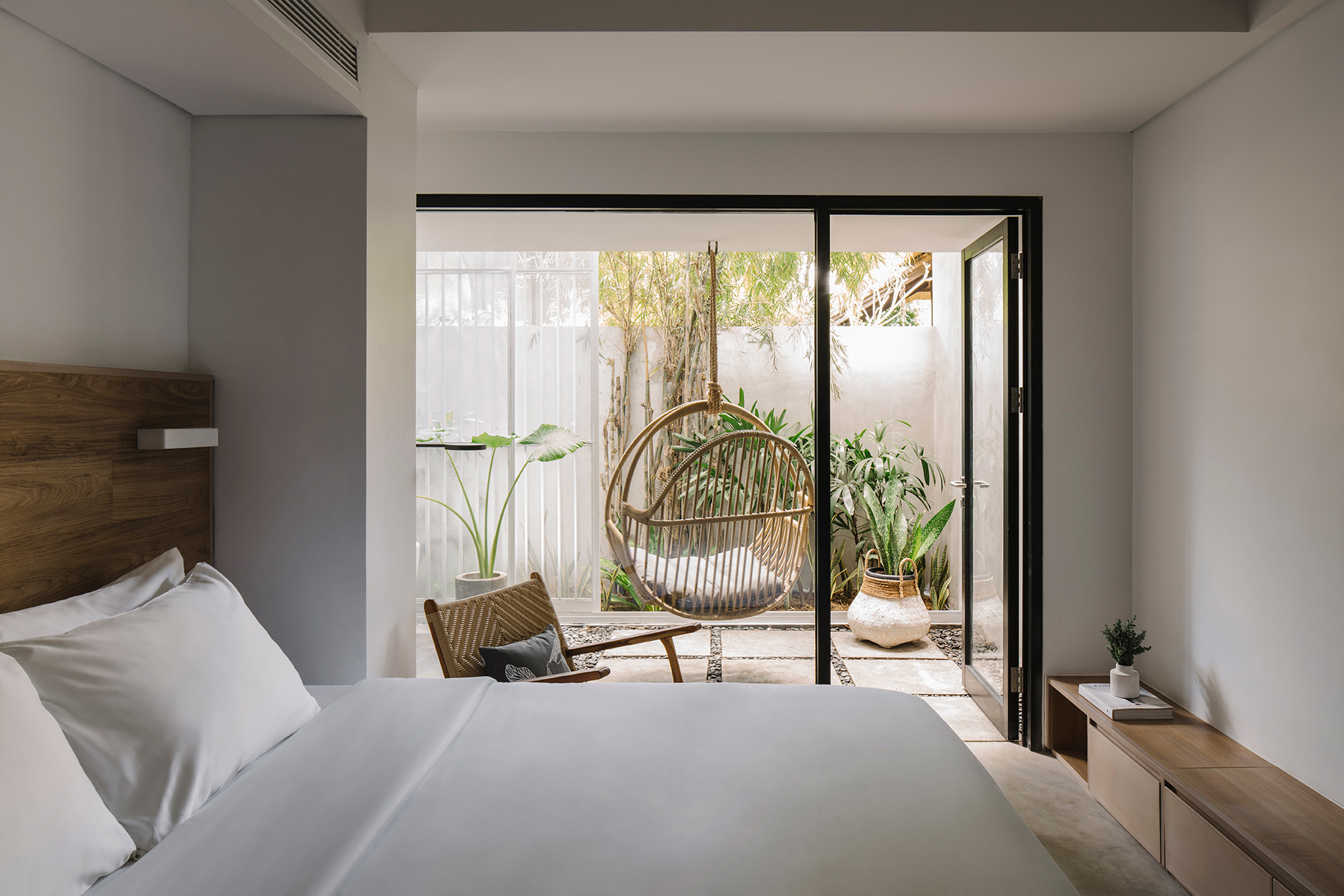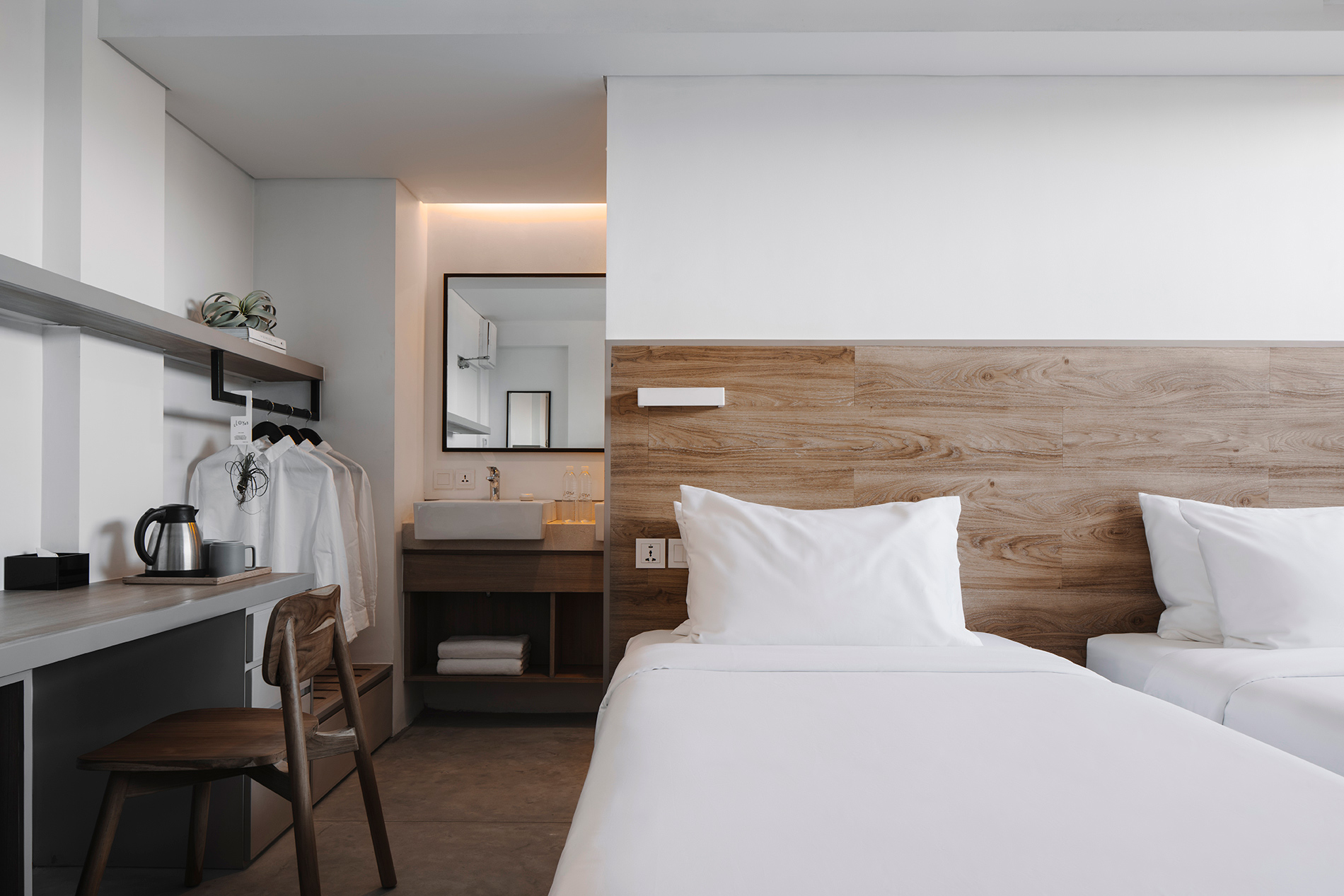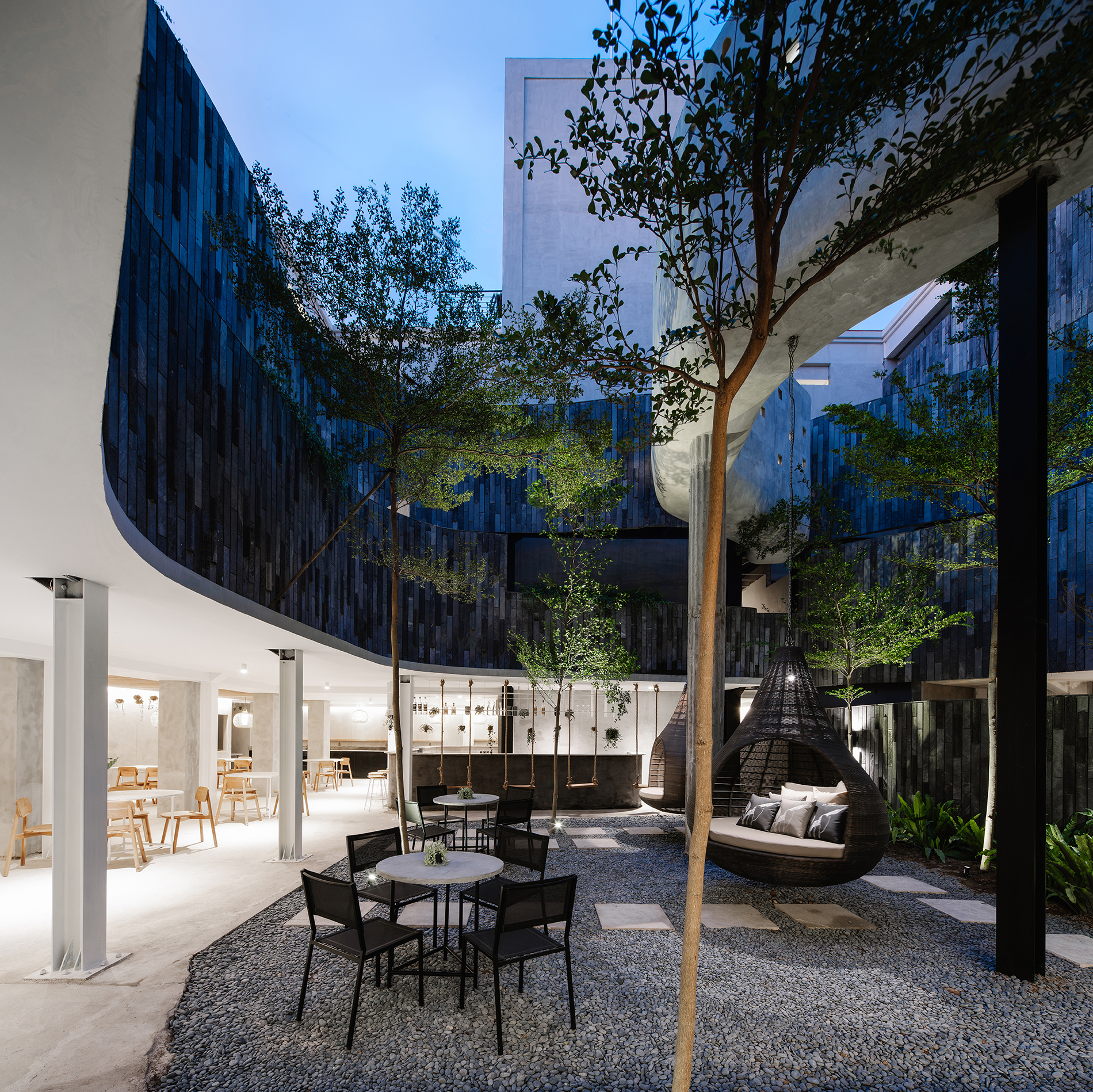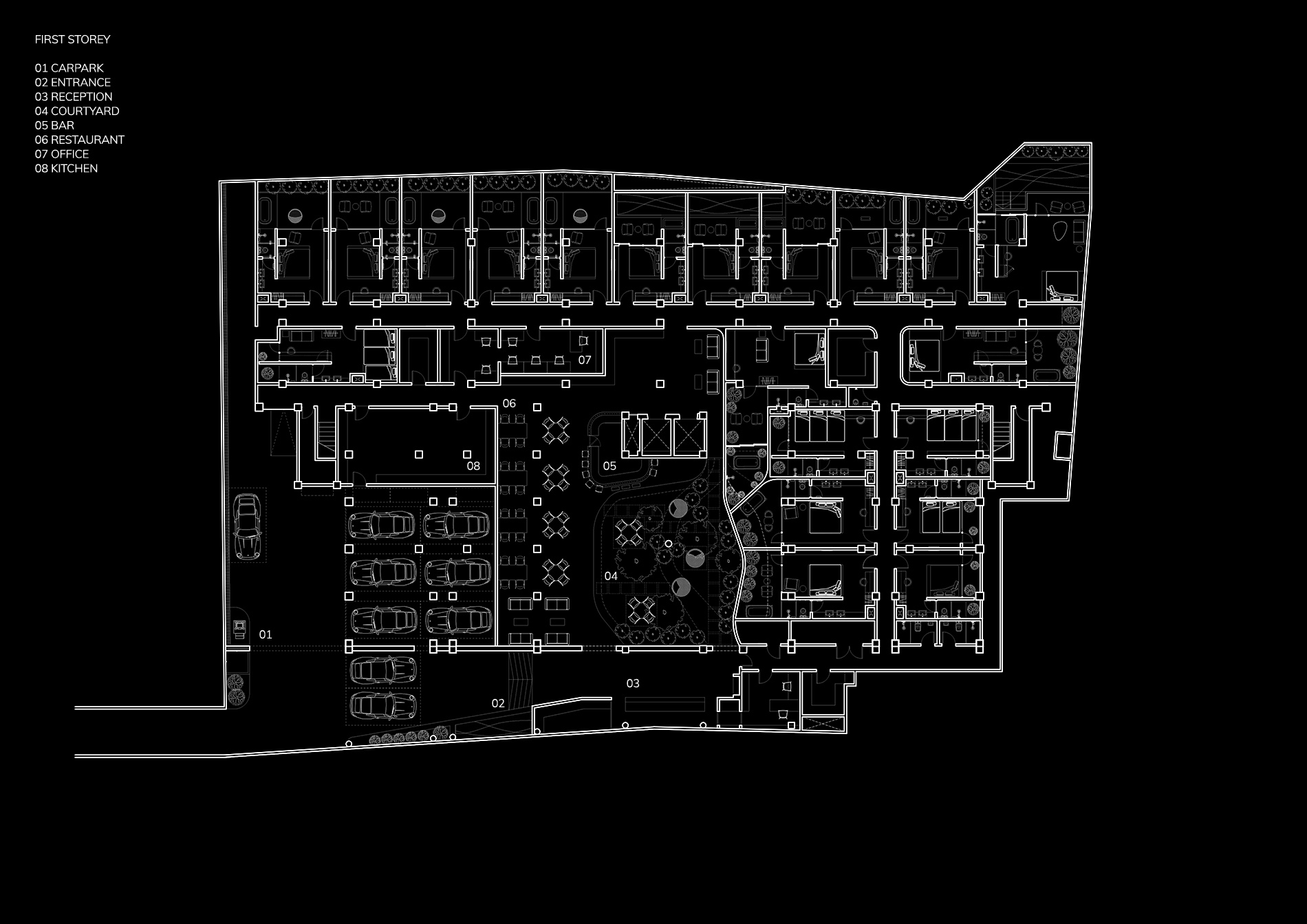 Growing their ethos of hospitality focusing on guests' relationship with nature, Lloyd's Inn Bali is the brand's first foray outside Singapore, and part of several sites in Southeast Asia currently being developed. Nature—light, openness, greenery and material beauty—is the impetus of the spatial and experiential design, with every aspect of the hotel kept minimal and fuss-free for guests.

Lloyd's Inn Bali started with an existing 4-storey budget hotel in Legian. We retained most of the structure, adding front and side extensions to house new facilities like a spa, lounge/library, pool and deck. The hotel is located behind a main street and accessed via a small alleyway. This alley transitions into the reception, finally discharging past a threshold into the central courtyard garden. The obscurity of this entrance sequence creates sufficient distance from the main road, heightening the hotel's atmosphere of peaceful seclusion.

The main circulation path is moved from the perimeter to an existing service corridor between rooms, and this perimeter is converted into balconies, creating more privacy in access and outdoor space. Balconies facing the courtyard garden are tiered, ensuring ample daylight without allowing visual access. To translate the identity and intimacy of the original small boutique hotel into a site nearly three times that size, in Bali, we were careful to layer and decentralise, rather than creating large singular spaces. By staggering programs, circulation becomes a journey-based experience, with possibilities for discovery.
At the core of Lloyd's Inn's philosophy is the garden. We were cognizant that this relationship with nature requires differing expressions across sites. For Bali, where nature is more immersive experience than backdrop, opportunities for meaningful natural interactions were orchestrated. Hidden from external view, the courtyard garden becomes the focal point of the hotel. The constraints— terminating the entrance sequence, providing open gardens and privacy for every room, the existing structure—lead us to a solution of staggering the balconies and using curvature to filter daylight into rooms. Every room has a little sanctuary of landscape, to allow natural light and ventilation in. Layers of landscape on the ground level and with the large stone walls create a tiered landscape that frames the view from ground to sky, creating a serene, hidden garden that anchors the guest experience.

To draw links across various Lloyd's Inn locations, the same humble palette of light oak, cement, white and greenery was used in Bali for the interiors. External spaces were rendered in locally sourced lava stone and pebblewash to contrast. So that the hotel can be anchored in its greater context, local handmade sinks and loose furniture, and finishes such as sukabumi tiles and marble were sourced from the immediate Bali region.
Lloyd's Inn Bali is a continuation of the intentions set in Singapore, to integrate the experience of nature into hospitality, providing an restorative, meaningful journey rather than simply a place to stay

the night. As Lloyd's Inn spans across locations, the principles behind its particular approach to hospitality must evolve as well. Bali is an optimistic first step in that direction, paving the way for future explorations into what it means to be in nature.
DISCIPLINE
ARCHITECTURE, INTERIOR, BRANDING, GRAPHICS & ENVIRONMENTAL GRAPHICS
TEAM
Tiah Nan Chyuan, Clifford See, Susanne Teng, Edwin Tan
COLLABORATORS
Architect: Wastu Interior Design | Lead Consultant, Interior Designer, Graphic Designer, Branding Consultant: FARMWORK Pte Ltd | Photographer: Studio Periphery, Goderic Tia Photography&nbsp