The Identity of: Co-Living
A brief trajectory of co-living spaces
The evolution of socio-cultural milieus often directly impact the transformation of our physical spaces. With greater mobility and connectivity through digital mediums, work patterns and environments diversify, and living arrangements have increasingly responded to this. One of the more visible examples of alternative living arrangements in the recent decade is the growing concept of co-living. In its simplest terms, co-living is a domestic situation wherein a group of people—often strangers—live together, retaining their own private spaces while sharing communal facilities. Latching on to an increasingly nomadic and digital work culture, co-living became a prominent typology in the early 2010s, to house business travellers and other short-term stays in more homely, yet efficient spaces.
PRE-CURSORS OF CO-LIVING: BOARDING HOUSES
The concept of shared facilities is not a new one. Villages and other small communities have offered it for decades. Co-living spaces differ from them in their interior domestic package, as they share not only resources, but living spaces. The co-living model's closest relative is arguably the
boarding house
, a typology that was crucial in 19th century America and Great Britain during the swell of the Industrial Revolution. Individual house-owners sub-divided their properties to let out—sizes ranging from single bedrooms to full apartments. Boarders included sole tenants, full families and everyone in between. Often, proprietors lived alongside their boarders, even providing housekeeping services and meals, which were taken at a common table. Sitting rooms, kitchens and bathrooms were typically shared amongst tenants. As a result of this compact and overlapping living arrangement, interactions through shared activities and encounters in common spaces created an eclectic community out of the various characters in residence.
In this way, boarding houses disrupted the traditional domestic model which focused on the nuclear and extended family. They required a certain level of intimacy, socialisation and co-existence between strangers. This living situation particularly appealed to young new urbanites in the 19th century with its air of worldliness and excitement as opposed to rural cultures. Boarding houses were essentially microcosms of their increasingly diversified cities. For the first time,
women were also freed
from their compulsory duties of domestic labour, given that chores such as cooking and cleaning were now provided through outsourced services, enabling them to enter the workforce. In relinquishing home-ownership and the total interior privacy that comes with it, residents of boarding houses gained a level of autonomy that was previously inaccessible.
PRE-CURSORS OF CO-LIVING: THE FACTORY
Beyond such aspects of practicality, efficiency and changing views towards the home, the co-living model of today also shares similarities with early examples of artistic communes. Wells Coates' Isokon Flats and Andy Warhol's Factory both facilitated the close proximity and interaction of creative individuals, nourishing creative discussion and work.
The Factory was a more radical prototype
, discarding aspects typical of living such as privacy, organisation and comfort in favour of constant creative production and socialisation. Its singular, continuous space, plastered in silver foil, housed an eclectic collection of objects amongst while Warhol and his associates worked, played and sometimes lived. With no walls to hide behind, The Factory's inhabitants developed a microculture of openness, intimacy and collaboration, uninhibited by the form, layout and principles of the typical domestic. Through its enabling of a creative, counterculture community and aided by Warhol's glamour, The Factory launched an interest in the loft typology now so iconic of New York. The attraction continues, not only through the industrial aesthetic, but also through the blurred boundaries of private, work and social spaces that the industrial open plan enables.
PRE-CURSORS OF CO-LIVING: THE ISOKON FLATS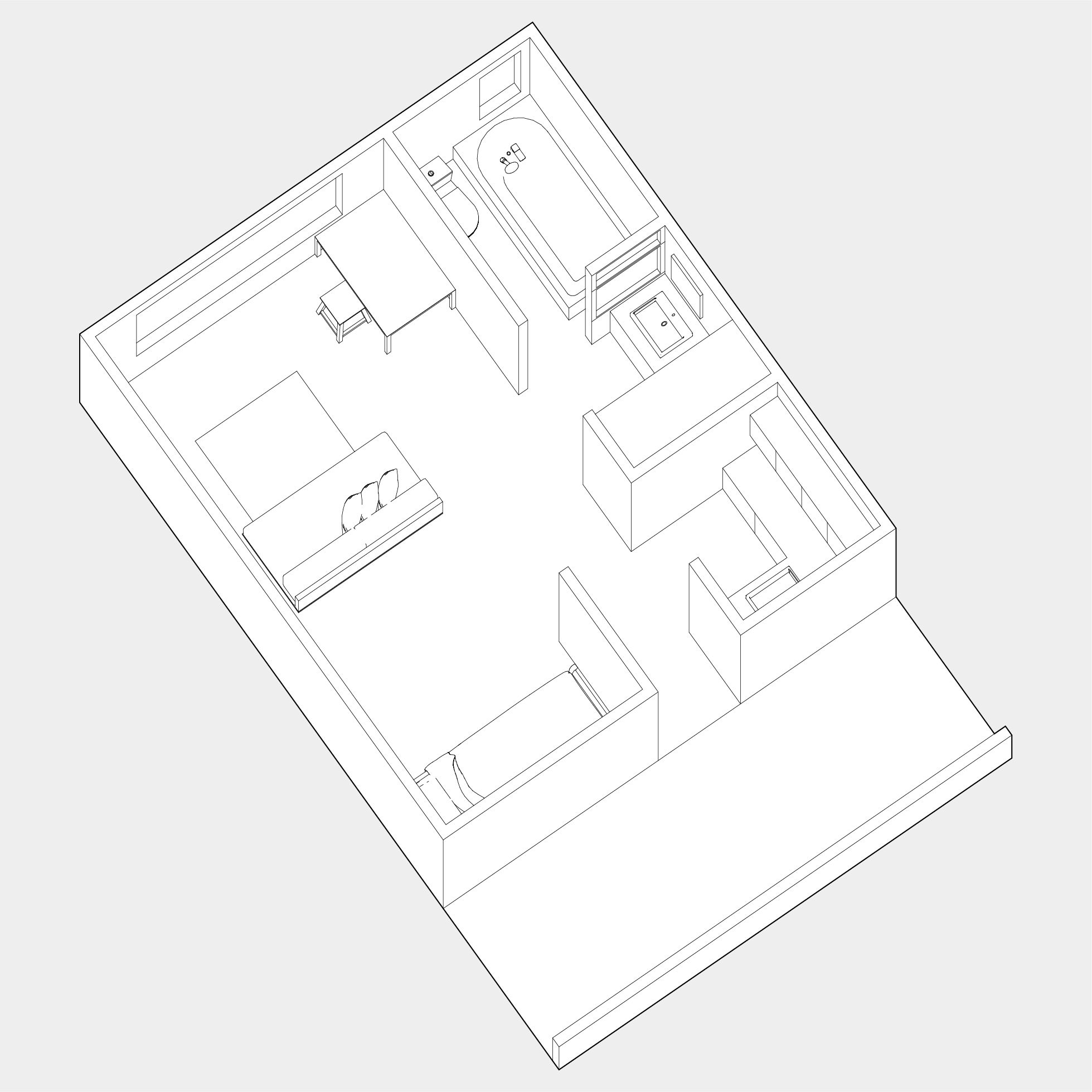 TYPICAL UNIT OF THE ISOKON FLAT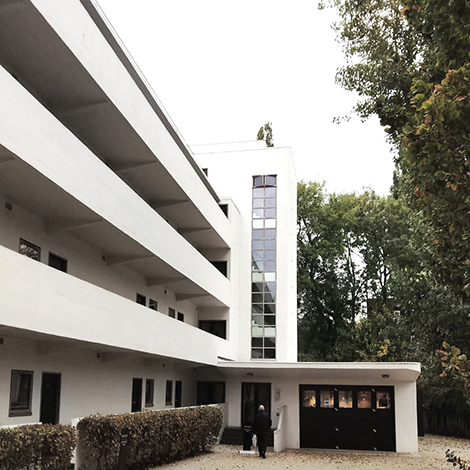 GROUND FLOOR COMMUNAL KITCHEN AND LAUNDRY ROOM
The
Isokon Flats
take a more deliberate approach in designing architecture for communal living. Built by Coates for the Pritchards, as an experiment to test out minimal living in urban London, each flat held only the necessary required for comfortable living. As such, every tenant had a small kitchenette, a bathroom, and one or two rooms for living. To substantiate the flats, a communal kitchen, laundry and store were provided for at the ground floor, and the external corridors off which the flats were loaded were designated as 'open galleries'. Housekeeping services from shoe shining to window cleaning were provided to all tenants. Meals could also be served, either in individual flats or at the communal kitchen. This kitchen was later converted into a bar, and expanded into a restaurant, which formed the hub of a creative intellectual community in North London. This atmosphere was certainly aided by the Isokon's illustrious list of tenants, who held exhibitions at the bar, chatted in the open galleries, invited their similarly high-profile friends to sup with neighbours, and possibly engaged in deep discussions over the laundry. By reducing truly private spaces of rest, maintaining an open circulation from flat to street, and externalising activities such as eating and laundry in communal areas, the Isokon's environment encouraged these organic acts of socialisation, while still providing a private refuge for its residents.
TYPICAL ISOKON UNIT KITCHENETTE
TYPICAL ISOKON UNIT DRESSING ROOM
CO-LIVING IN TODAY'S CONTEXT
The typical contemporary co-living situation gives utmost privacy to intimate spaces of necessity, such as the bedroom and bathroom, which are rarely shared. Much like the Isokon Flats, less-used, ancillary components like laundry facilities and kitchens remained communal. Spaces set aside for work and relaxation are also shared amongst residents. Depending on the scale of building, communal spaces may be three floors up or right outside your bedroom door. Nonetheless, the dispersion of facilities gives residents access to most of the building, and often necessitates that they do, as opposed to the more confined movement of rental. Through this overlap of usage, a domestic economies-of-scale is created, allowing residents to pay less than a full apartment rental. Chores like cleaning or restocking necessities can either be rotated or outsourced altogether, lightening the load of upkeeping your residence.

This additional freedom from domestic burden—both in finances and labor—is meant to appeal largely to a specific profile of resident, namely young, single professionals who are often new transplants or on short-term stay. Co-living hinges on the same promise of autonomy that the boarding house did, and even takes it one step further. All co-living properties often come fully-furnished, right down to the knick-knacks in bedrooms and utensils in kitchen drawers. For a new generation of young workers—namely, millennials, who are infamously said to value experiences above material objects—this removes the need to invest in home furnishing. Coupled with the business model of most co-living proprietors, who operate several properties globally and allow residents to transfer between them, subscribers of co-living can enjoy a nomadic freedom of movement, without being hindered by large possessions.

The potential for a ready-made community within the co-living situation is also enticing for residents who do not have social connections in their current cities. The loneliness of urban dwelling, being physically separated from friends and family, and the lack of opportunity for friendships beyond a work environment has been an increasing detriment of rapid urbanization. As we see in The Factory and the Isokon Flats, communal spaces for non-private activities can also become social spaces. While co-living does not guarantee instant friendships, it does set up the opportunity for interaction, through shared time performing everyday functions, the necessity of roommate logistics and the dozens of events that are hosted specifically for residents.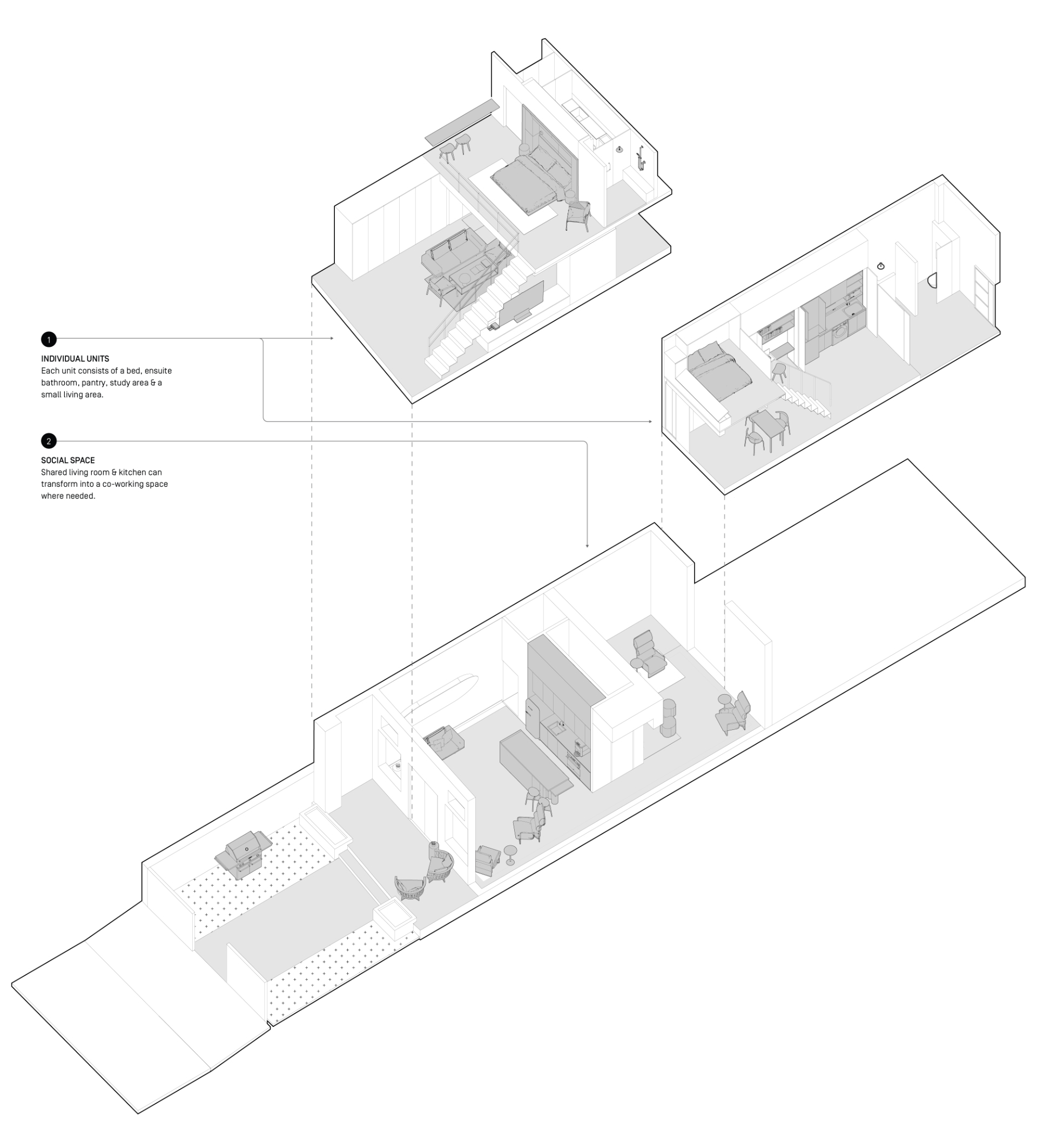 CO-LIVING PROTOTYPE
Co-living Prototype (part of ongoing project study undertaken by the office) – Occupants each have a self-sufficient studio unit, with an ensuite bathroom, a small living area, a pantry, a study area with built-in storage. A household of approximately 6 rooms shares larger communal spaces such as a sizeable kitchen and living room, easily used for hosting or meetings. This model of co-living is in between the typical co-living typology and the more private residential house, giving residents more space and facilities in their rooms. In the spirit of a shared-house concept, this model presents itself to be somewhat more intimate while still offering the chance for a controlled communal interaction. Taking note of the modern work culture, the communal living space also has the flexibility of being converted to a co-working space, adding more potential to the public/private spatial divide.
While the flexibility that comes with co-living is appealing for a younger generation, and currently marketed mainly towards them, this is not the only option of domesticity that co-living can provide. 2016 Wheelwright Prize winner Anna Puigjaner's winning proposal describes a
'kitchenless city'
, where she indicates the potential for resources such as kitchens to be shared within a community, thus changing not only individual domestic situations, but also the ways in which a community interacts. Puigjaner's ongoing research has uncovered
examples
where collective kitchens have galvanised groups of people, and helped them to fulfil certain social or economic needs previously unaddressed. The kitchenless city calls upon the same consolidation of domestic facilities and labour, but spreads them through neighbourhoods instead of apartment blocks and houses, thus addressing a wider audience.
Alongside Puigjaner's work, ideas in co-living have also been implemented in situations of aged living.
One model
of co-living currently in operation specifically pairs elderly homeowners who have spatial resources but no social support with young tenants such as students, who are able to offer companionship and chore labour. In the UK,
an elderly co-living facility
designed by Pollard Thomas Edwards allows elderly women to keep private residences while still enjoying shared facilities within the same compound. Besides building a long-term support community, residents also share the cost and care of their collective, allowing for more autonomy and socialization than is often possible of other forms of elderly living.
Where is co-living headed towards? The research project
ONE SHARED HOUSE 2030
is currently collating survey data on opinions toward communal living. With increasing urban density, and our changing lifestyles, it is safe to say that the co-living model is here to stay in some shape or form. As with co-working, co-living is still undergoing a stage of configuration, where users test and adjust the model through collection collaboration. Both share the same ideas of resource efficiency, community interaction and flexibility, concepts that are increasingly desirable in spatial design. While there have been no specific policies implemented with the specific aim of normalizing the co-living typology, there has been a better societal understanding of co-living as an alternative to the typical domestic situation. Even if not implemented in full, co-living concepts can, ideally will, and have started to help inform other types of domesticity, evolving and improving the future ways of how we can live.
BEST WHEN TAKEN WITH A PINCH OF SALT.
PLEASE EMAIL
FARMACY@FARM.SG
WITH YOUR FEEDBACK, OR IN CASE OF ANY INACCURACIES.
REF. NO.
INSIGHTS-004-THE-IDENTITY-OF-CO-LIVING
CONTRIBUTOR(S)
MERVIN LOH, TAN QIAN ROU, LEE HUI LIAN, SARAH LEE