Safe Stay
How hotels can adapt to the new normal
With the emergence of COVID-19, the world has been suspended. Travel restrictions and advisories have been implemented for many countries, placing the leisure travel industry on standstill. Since the first quarter of 2020, virtually the entire world has adopted social distancing measures, with various cities placing themselves under some form of lockdown.

Just as anti-terrorism measures have altered airport spaces and protocol, will self-quarantine after international travel become a new normal? If so, how does this impact the current models of hospitality? Hotels have been used to quarantine travellers returning from abroad1. Will hotels become the default holding space for travellers who find themselves in the midst of an outbreak? Should hotels within a certain radius of air or seaports be used primarily for the purposes of quarantine? With the importance and frequency of business travel, how can business hotels evolve their modus operandi to accommodate safe distancing measures recommended by health experts? Here, we suggest some ideas for how hotels can adapt to accommodate a new norm of travel.
New sanitisation practices will be put in place. Almost all hotels have a drop-off point—or porte-cochère—for guest arrivals. Installing a landing space or a 'mud room' at the entrance between the drop-off and lobby allows guests to sanitise themselves before entering into the hotel space and having any interaction with hotel staff.
In Tokyo, Japan, a hotel in the Ginza district is run mostly by robots. Guests are assisted by a human receptionist, who guides them to an automated kiosk where robots take over. Housekeeping is also done robotically.2 In the instances where the procurement of robots is difficult, the reception can be broken up into several check-in pods to facilitate safe distance measures and implement efficiency.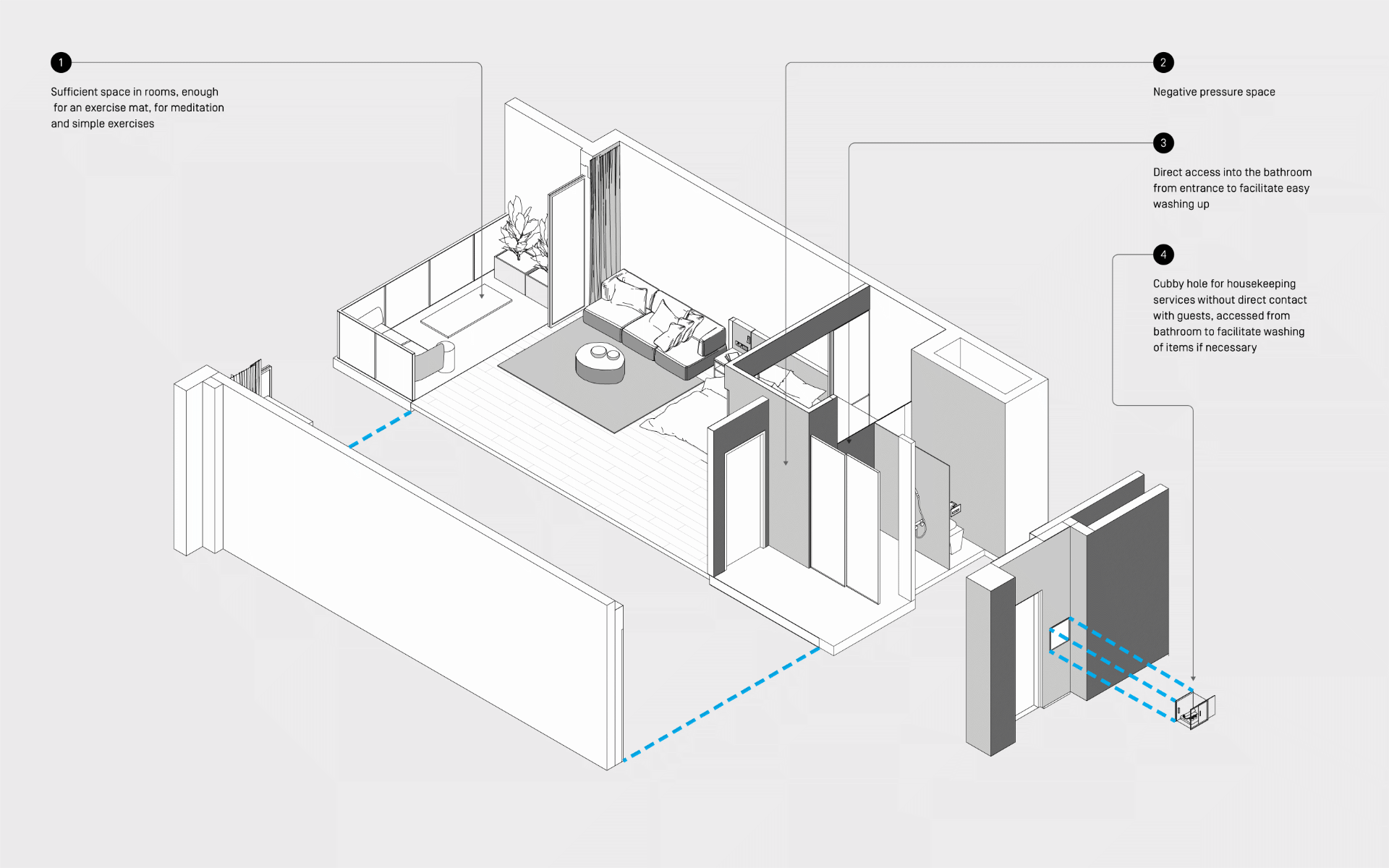 Housekeeping should also be reduced to zero interaction wherever possible. Some hotels have cubby holes that housekeeping can access from the guestroom corridor, and guests from inside their room. This is to be used for guest-requested items or the exchange of towels and such.

Where modification to an existing hotel is difficult, a lockable casegood can be fitted in front of every guest room, for the exchange of items.
For guests in isolation, it is important to care for their physical wellbeing. This can be achieved by providing space within every room for guests to do simple exercises on their own, minimally enough to accommodate an exercise mat. Dedicating an allocated area for a workout with plenty of greenery can cater for the physical and mental wellbeing of a guest in isolation.

Light fittings in the room should have adjustable temperature and lumens, especially when the living/dining/working/sleeping area is essentially one and the same. Allowing for different light settings—such as 4000K lighting 450 lux when working and 3000K 150 lux when lounging—can help differentiate between activities conducted in the same space.
BEST WHEN TAKEN WITH A PINCH OF SALT.
PLEASE EMAIL
FARMACY@FARM.SG
WITH YOUR FEEDBACK, OR IN CASE OF ANY INACCURACIES.
REF. NO.
INSIGHTS-010-FUTURE-HOTELS
CONTRIBUTOR(S)
NINA ARILY