When designing an F&B space, the seating layout is a major component that supports the eatery's operations quietly when done well, but can stand out jarringly if not properly considered. When planning for any seating layout, the first step is to think about the establishment's intended atmosphere: the level of formality, the type of food served, and the kind of guest interaction to be encouraged. Of course, practical issues such as the size, shape, configuration and restrictions of the space also come into play.

In thinking about these aspects of spatial planning, we find that strategies like functional zoning, seat categorisation and flow planning can be highly useful in optimising daily operations, while still creating an intentional mood. In this Field Note, we hone in on a more casual restaurant and café settings, and take a look at how various elements can help to enhance a vibe, while still being efficient and organised.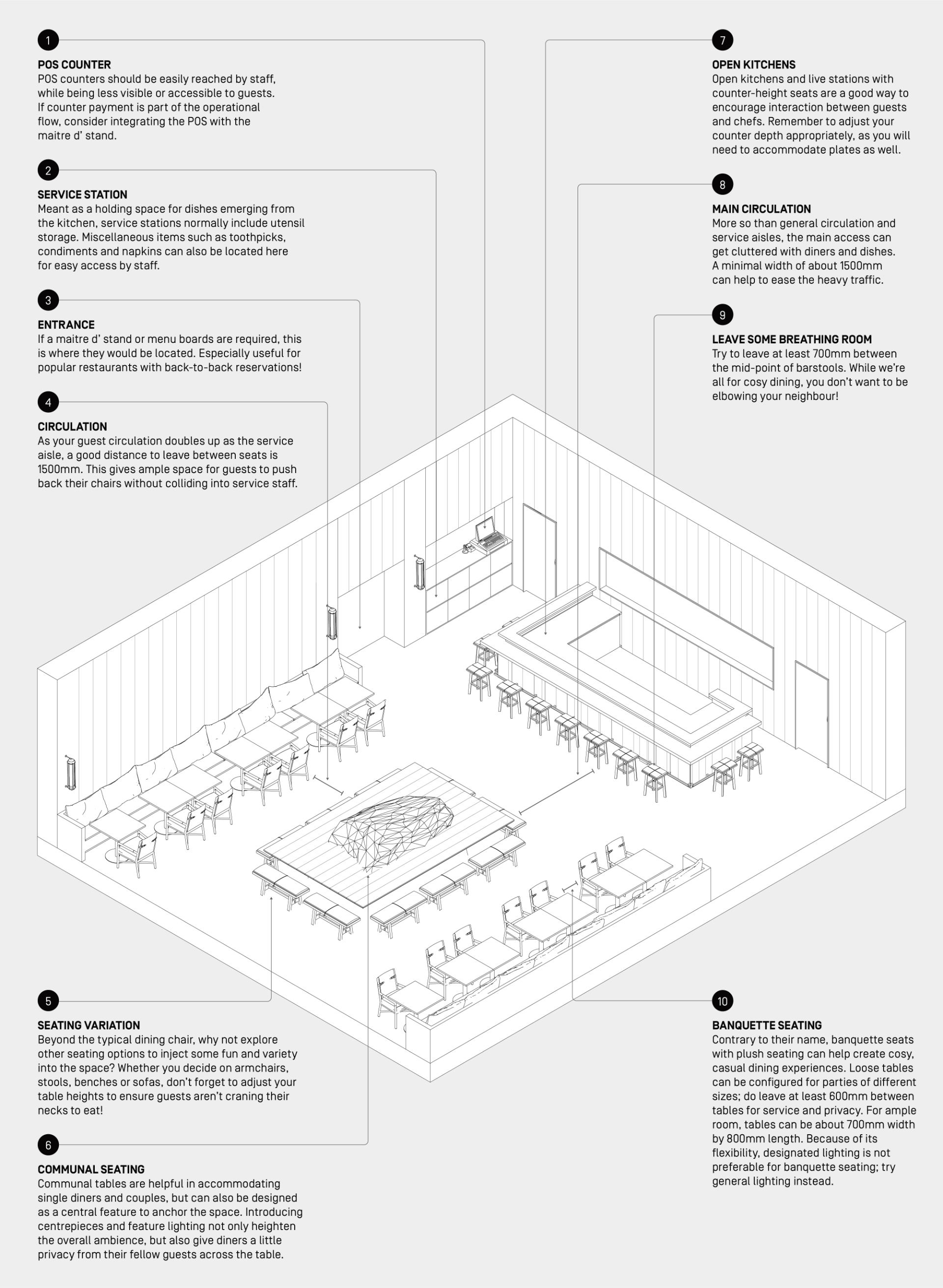 Counter stools usually vary from 600mm to 900mm from the ground. To ensure that sitting at the counter doesn't become an uncomfortable experience, remember to coordinate your countertop and seat heights. A good tip to keep in mind: always ensure the countertop is about 300mm higher than the seat height, to leave sufficient room for legs. Bag hooks located under the countertop are convenient for guests to hang their belongings, as space is normally a constraint. Depending on whether your counter is a bar, a dining top or collection point, remember to adjust its depth to match.
At the end of the day, various factors and considerations will affect how you plan the seating configuration for a space. While we have briefly introduced some guides that have helped us in planning for F&B spaces, the most important part is to work closely with the operations team, and to remember that seating plans are not an absolute rule, but another aspect of design to consider.
BEST WHEN TAKEN WITH A PINCH OF SALT.
PLEASE EMAIL
FARMACY@FARM.SG
WITH YOUR FEEDBACK, OR IN CASE OF ANY INACCURACIES.
REF. NO.
HACKS-008-F&B-SEATING
CONTRIBUTOR(S)
FOO LIMAY, NINA ARILY